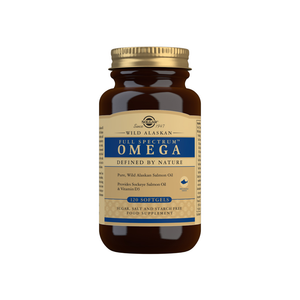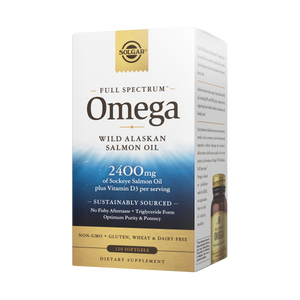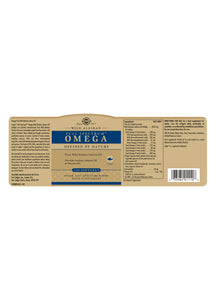 Solgar wild alaskan full spectrum. omega softgels
Started using these not totally convinced to be honest. But when I ran out and stopped using then for a week or two I really saw the difference.
Actually mainly in my hands. As a health care worker I wash my hands a lot and dry and cracked skin on my hands are the norm this time of year. I'm back on the softgels and my hands are without one crack. I'd take them just for this effect happily.
Solgar Wild Alaskan Full Spectrum Omega Softgels (Pack of 120)
Easy to take!
I take 2 daily now for the last 2 months and noticing a big difference in the texture of my skin.
Easy to take without aftertaste!
I love these Solgar Wild Alaskan Omega capsules! They are easier to take and there is no after taste. Would definitely recommend 👌
Omega softgels
Easy to swallow and with no after taste which other similar products have as they repeat on me, this product doesn't
Solgar Wild Alaskan Salmon Oil provides the full spectrum of omega fatty acids, helping you to increase your intake of good fats for healthy skin. It also includes Vitamin D3 to support your immune system and Astaxanthin. A complex carefully prepared for optimum purity and potency and nourishing the whole body.

There are many well documented health benefits of omega oils, proven by thousands of clinical trials worldwide. These studies have shown, fish oil supplements containing EPA and DHA can support vascular health by helping to maintain triglyceride levels already within a normal range. Research also indicates that omega fatty acids help maintain cognitive health and vision. The added Vitamin D3 helps to support your immune system and bone health. That is why Solgar® Wild Alaskan Full Spectrum™ Omega is a perfect addition for anyone as a part of our daily health routine.
DHA and EPA▴ contribute to normal:
Blood pressure and triglyceride levels
Brain function
Function of the heart
▴The beneficial effect is obtained with a daily intake of 2 g of EPA and DHA. Do not exceed a supplemental daily intake of 5 g of EPA and DHA combined

DHA** contributes to the maintenance of:
normal blood triglyceride levels
normal vision
**The beneficial effect is obtained with a daily intake of 250 mg of DHA
Vitamin D contributes to normal:
Absorption/utilisation of calcium and phosphorus
Blood calcium levels
Vitamin D contributes to the maintenance of:
Normal bones
Normal muscle function
Normal teeth
Normal function of the immune system 
All Solgar® products meet our industry recognised "Gold Standard" for excellence. Made using naturally sourced ingredients and innovating since 1947, Solgar® is your perfect supplement to good health – 98% of Solgar® consumers recommend the brand*
How to use:  
Take 2 a day at mealtime, or as directed by a healthcare practitioner.