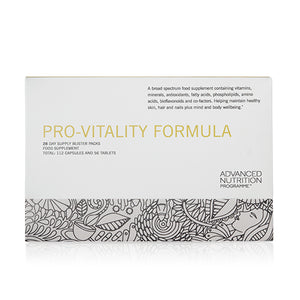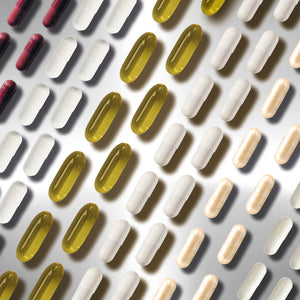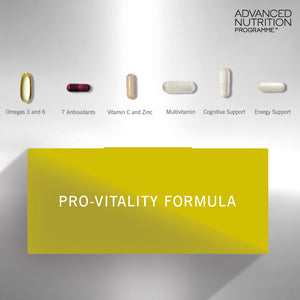 Per daily intake (6 caps)
Vitamin A 200iu
60µgRE
7.5
Beta carotene
3mg
-
Equivalent to Vitamin A
500µgRE
63
Vitamin D2 (200iu)
5µg
100
Vitamin E
6mg α TE
50
Vitamin K (K2)
50µg
66
Vitamin C
600mg
750
Thiamine (vitamin B1)
1.1mg
100
Riboflavin (vitamin B2)
1.4mg
100
Niacin (vitamin B3)
16mg
100
Vitamin B6
1.4mg NE
100
Folic acid (as Folate)
400µg
200
Vitamin B12
52.5µg
2100
Biotin
50µg
100
Pantothenic acid (vitamin B5)
14mg
233
Calcium
120mg
15
Magnesium
160mg
43
Iron
7mg
50
Zinc
7mg
70
Manganese
0.5mg
25
Selenium
45µg
82
Chromium
40µg
100
Molybdenum
40µg
100
Iodine
83µg
55
Boron
33µg
-
Choline
100mg
-
Fish oil-providing omega 3 fatty acids
570mg
-
EPA (eicosapentaenoic acid)
178mg
-
DHA (docosahexaenoic acid)
119mg
-
Evening Primrose Oil providing Omega 6 fatty acids
297mg
-
GLA (gamma-linolenic acid)
25mg
-
N-Acetyl L-Cysteine
100mg
-
Alpha lipoic acid
40mg
-
L-Arginine Pyroglutamate
75mg
-
N-Acetyl L-Carnitine
100mg
-
Phosphatidyl serine
10mg
-
Acai berry powder
10mg
-
Acerola Berry
55mg
-
Bilberry fruit powder
15mg
-
Broccoli powder
10mg
-
Spinach leaf powder
10mg
-
Turmeric root
12.5mg
-
Grapeseed extract
25mg
-
Green tea extract
12.5mg
-
Lutein
4mg
-
Lycopene
2mg
-

NRV = Nutrient Reference Value
ɑ-TE Alpha Tocopherol Equivalent
NE = Niacin Equivalent RE = Retinol Equivalent
The Advanced Nutrition Programme Pro-Vitality Formula has been expertly developed with six supplements including Skin Vitality 1, which is packed with 26 nutrients, including a carefully calibrated fusion of immune-supporting vitamins and minerals.
Packaged in convenient daily blister strips, this 28 day supply takes the guesswork out of supplements making it easy to know what to take per day. This comprehensive pack helps maintain skin, mind and body wellbeing for optimum wellbeing.  
WHO IT'S FOR 
Ideal for hoomans who want it all in one handy pack! 
HERO INGREDIENTS 

Omega-3 fatty acids: EPA & DHA contribute to the normal function of the heart, maintenance of normal blood pressure & maintenance of normal blood triglyceride levels
Vitamins, A, C, B2 (riboflavin) & zinc: contributes to maintenance of normal, healthy skin & immunity
Biotin & selenium: for nails and hair, supports energy-yielding metabolism with B vitamins (such as thiamin, niacin)
Vitamins D & calcium: contributes to maintenance of your bones and muscles.
HOW TO USE

Take the contents of one blister strip daily with a meal or as your health professional advises. Each blister strip contains: multivitamin/mineral tablet, antioxidant complex capsule, vitamin C with bioflavonoids tablet, omega 3 and 6 fatty acids capsule, brain specific nutrients capsule and N-acetyl-L-carnitine and alpha lipoic acid capsule. 
This product should not be used as a substitute for a varied and balanced diet and healthy lifestyle. Do not exceed the stated recommended daily intake. Store below 25º in a dry place away from direct sunlight and heat. 
WARNINGS 
Do not take if pregnant, planning a pregnancy or breastfeeding, unless on the advice of a doctor or antenatal clinic. If you are under medical supervision, please consult a doctor before use. Caution is advised with anticoagulant medication such as heparin, warfarin or coumadin. Amounts greater than 1000mg of vitamin C may cause mild stomach upset in sensitive individuals. Long term intake of amounts greater than 10mg of vitamin B6 daily may lead to mild tingling and numbness. This product contains iron, which if taken in excess, may be harmful to very young children. Keep out of sight and reach of children. Long term intakes of more than 4mg of manganese daily may lead to muscle pain and fatigue.