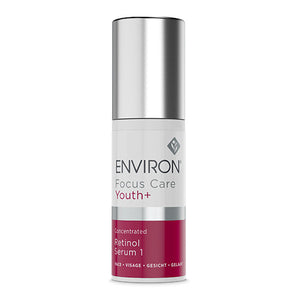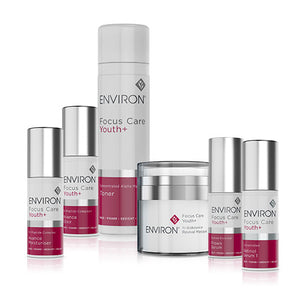 Environ Focus Care Youth+ Concentrated Retinol 1 Serum
Lovely product, smoothing results already
I really love this product. Its early days in the journey with retinol but I can feel its smoothing effects already. Looking forward to even better results in the coming weeks and months.
Retinol 1 Environ
Found this very easy to use and my skin loves it. Lovely consistency too
I only have bought it recently but so far I really like the feel it gives to my skin
Want to order Environ but aren't a consultation client? Chat with our team between 9AM - 5PM Monday to Friday to discuss Environ, if it's suitable for you and get access to this this product.
The Environ Focus Care Youth+ Concentrated Retinol 1 Serum (30ml) is an advanced step of Environ's vitamin A step up system, for those who have used Environ AVST Level 5 and are looking to step up to a higher amount of vitamin A.

Designed to help improve the appearance of uneven skin tone, refine the look of skin texture and reduce and improve the appearance of fine lines.

WHO IT'S FOR:

Hoomans who have completed the Environ AVST Step-Up System
Suitable for those with congested or problematic skin

HERO INGREDIENTS:

Vitamin A: assists skin cell turnover, antioxidant
Bovine colostrum: natural growth factors, pre-milk substance
HOW TO USE:
After pre-cleansing and cleansing, add one drop to your AVST 5. As your skin feels more comfortable, increase the amount of retinol you're adding until you can comfortably use it on its own
Not suitable for use during pregnancy