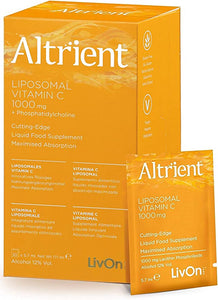 Altrient C Liposomal Vitamin C 
MAXIMISED ABSORPTION - Altrient Liposomal Vitamin C uses patented Liposomal Encapsulation Technology to deliver far higher absorption rates than other non-liposomal oral forms of vitamin C including vitamin C powder and vitamin C capsules.

CLINICALLY PROVEN - Double blind, placebo controlled, clinically proven to significantly Increase skin elasticity by 61%. This is due to increased cellular absorption of vitamin C thus increased collagen production.

1000mg VITAMIN C and extra 500mg phosphatidylcholine per sachet.

RIGOROUSLY TESTED - every batch of Altrient is tested to ensure a high level of liposomal encapsulation and liposome stability. FDA and EFSA approved. Passed Informed Sport doping testing.

PURE FORMULATION - In other formulas, extra additions like sweeteners can potentially degrade the formula and affect the absorption. Always look for an extremely pure formulation using no sweeteners or sugars (ie fructose or maltodextrin) and unnecessary additives.