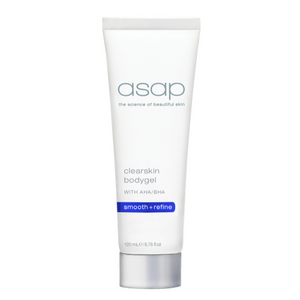 Key ingredients
Glycolic Acid: exfoliating AHA
Citric Acid: exfoliating AHA
Lactic Acid: hydrating and exfoliating AHA
Salicylic Acid: pore-clearing and exfoliating BHA
White Tea: antioxidant, skin brightening
Bilberry: antioxidant, skin brightening
Apply sparingly to dry skin. Use SPF whilst using this product, as exfoliating acids can make the skin more light sensitive.
Note: We are unable to ship ASAP Skincare products outside of Ireland and the UK.
ASAP Skincare Clear Skin Body Gel is an effective body treatment containing powerful AHA/BHAs and antioxidants White Tea and Bilberry. Assists in the removal of dead skin cells, the treatment of body acne and the prevention of ingrown hair, pre and post waxing and shaving. 
Perfect for body spots, keratosis pilaris and pigmentation on the body and ideal for smoothing rough elbows and knees.