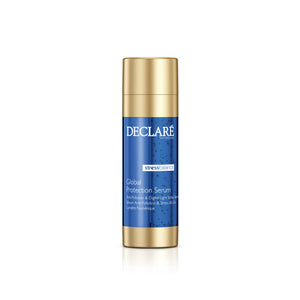 Declare Global Protection Serum makes your skin ready for the challenges of modern life. A combination of selected active ingredients with valuable plant extracts supports the resilience of the skin and helps to prevent radiation and environmental ageing induced by the companions of our modern life (pollution, IR radiation, radiation from artificial light sources and devices).
The youthful radiance of the skin is preserved, the formation of light-induced skin ageing and hyperpigmentation ("age spots") is counteracted. At the same time, the skin is moisturised and the appearance of fine lines and wrinkles is reduced. So that your skin is optimally protected and stays radiantly beautiful and youthfully fresh for a long time. 
Perfect for hoomans who spend time in front of screens (aka all of us) and suitable for all skin types.
Apply alone or mix with other serums post-cleansing and before SPF, moisturiser or night cream.