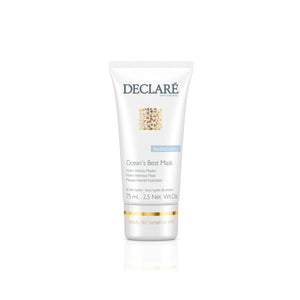 My new love
Absolutely love this product great result
skin feels soft and hydrated and value for money to boot. Will definitely buy again
Declare Ocean Best Hydro Mask is a creamy-fresh hydrating mask that works as emergency aid for dehydrated or dry skin in need of a boost of hydration. 
The mask immediately provides the skin with highly effective moisture to soften fine lines. The skin becomes soft and supple. Apply to face and neck after cleansing. Allow to soak in for 10 minutes (or can also be left on over night), remove excess (or gently pat in).
If using as an overnight hydration mask, apply post serums!