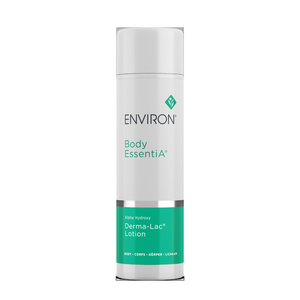 Very little change
I've been using the two products Derma Lac and Vitamin serum together every night for about three weeks now. I see no change whatsoever to my specific skin issue. I'll keep using it because it cost so much but I won't be purchasing again.
Environ Derma-Lac Body Lotion
A new staple in my skincare
I'm 35 and have always suffered with breakouts and congestion. I started using this along with the AC&E oil 3 weeks ago and the difference in my skin. I'm still getting spots but I feel this mixture is drawing them out (taking Skin Accumax alongside it). Very happy with the results so far!
Environ Derma-Lac Body Lotion
Treating Flaky Skin
Darina recommended this for some patches of flaky skin and it's doing a great job so far! I understand it will also help congestion within the skin but that probably takes longer than a couple of weeks;)
Want to order Environ but aren't a consultation client? Chat with our team between 9AM - 5PM Monday to Friday to discuss Environ, if it's suitable for you and get access to this this product.
Environ's Derma-Lac Lotion is a light, highly moisturising lactic acid based body lotion containing medium levels of Alpha Hydroxy Acids (AHAs).
This body lotion contains:
Lactic acid to assist in skin exfoliation and expose softer skin
Urea to assist with the natural moisturising factor of the skin
Glycerin to help hydrate skin and retain moisture

This product is excellent for dry, rough skin on the body including feet, elbows and knees and can also be used to treat sun damage, congestion and pigmentation on the body and face.
Suitable for all skin types! Especially suited for hoomans suffering from environmental damage, congestion, pigmentation, and keratosis pilaris. 
How to use:

Build up usage slowly to twice a day. Recommended for use alongside Environ A, C & E Body Oil. 
Jenn's Nerdie Bit 
The Derma-Lac Body Lotion is a leave-on, lactic acid based product – think Cleopatra. It exfoliates the skin gently and hence is phenomenal for any bodily bumpiness.