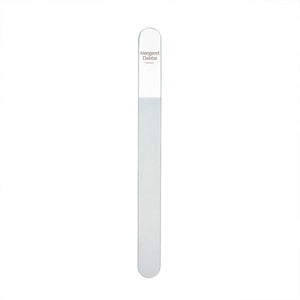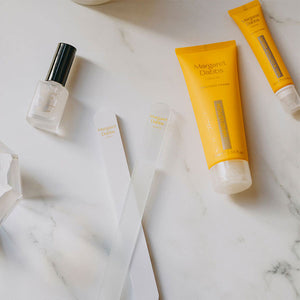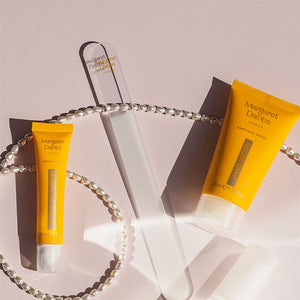 Margaret Dabbs Crystal Nail File 
Perfect for your home manicure and for shaping your own nails between salon treatments, this long-lasting crystal file will give you stronger, healthier nails. It is simple to use, can be used on fingers and toes, and in both directions.  It promotes healthy nail growth and seals the nail edge to prevent the nails splitting. It is an absolute beauty essential, and is suitable for use on natural nails or with gel polish. You will find that once you have it, you cannot live without it.
The Margaret Dabbs London Crystal Nail File is slim, elegant and highly effective. It is made of the finest, highest quality abrasive crystal and can be used on both fingers and toes. Perfect to keep in your handbag, your make-up bag or on your desk.  Regularly in the Press voted "Best Nail file". Unlike traditional emery boards and disposable nail files, this long lasting nail file doesn't wear out nor damage the nails, making it the perfect tool for keeping your nails strong, healthy, and beautifully shaped for years to come.
In The Press:
"Gentle and durable" – Saturday Telegraph, June 2020
"The Rolls-Royce of nail files" – The Telegraph, April 2020
Hygienic to use
Promotes strong nails
Promotes healthy growth of nails
How to Use:
The quality of the crystal means the nails can be filed in any direction without damage to them. Can be used to reduce thickened nails by sliding file over the top of affected nail. Clean the Margaret Dabbs London Crystal Nail File with soapy water and dab dry.
Caution 
Do not drop the crystal file on a hard surface as it may smash. Store in the plastic pouch.