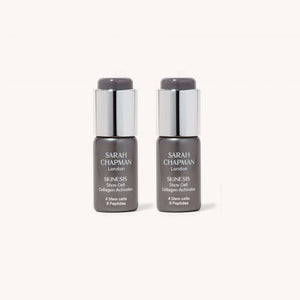 Sarah Chapman Stem Cell Collagen Activator Duo 
This evolution in skincare technology uses the latest, most-advanced research into carefully cultivated botanical stem cells and progressive peptide ingredients. This revolutionary age-defying serum is formulated with four cell-regenerating botanical stem cells and eight collagen-building, line-smoothing peptides, combining the latest innovations in cosmeceutical science and developing a whole new approach to anti-ageing skincare for a powerful skin transformation.
This synergistic, scientific blend of performance-proven technologies provides dermal and epidermal protection, promotes repair and regeneration for a firming effect, and plumps and smooths the skin. Stem Cell Collagen Activator is freshly mixed with a unique delivery system, releasing pure, powdered stem cells from an internal chamber into our concentrated peptide serum before initial application, ensuring the highest potency for the ultimate youth-boosting programme.
Use this skin-transforming duo for 28 days to experience plumper, firmer, more resilient and radiant-looking skin, whether prepping for a big event, post a complexion challenge, or just looking for an unsurpassed youth-boost.
Fragranced with the delicate scent of pure jasmine.