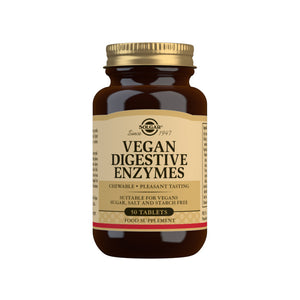 Bulking Agents: (mannitol, maltodextrin, dextrin), Vegetable Digestive Enzyme Powdered Blend: Lipase, Amylase, Protease, Amyloglucosidase, Cellulase, Anti-caking Agents: (vegetable stearic acid, silicon dioxide, vegetable magnesium stearate), Stabiliser: Guar Gum, Flavouring: natural peppermint flavour.
Solgar Vegan Digestive Enzymes (50 Capsules)
Solgar® Vegan Digestive Enzymes, is a unique proprietary complex that helps support your digestive system and the absorption of your food, using enzymes that are not sourced from animals. By taking 1-3 tablets of Solgar® Digestive Enzymes a day, you are helping your body to digest the food you eat and absorb the nutrients you need.

The digestive process is a complex system in which the body breaks down the food that we eat into nutrients using digestive enzymes, which are produced in the pancreas and small intestines. If we do not have enough digestive enzymes, our body cannot break down our food completely and even though we are eating a healthy and balanced diet, the nutrients aren't being absorbed efficiently.
Food allergies, low stomach acid and chronic stress also all have an impact on the production of digestive enzymes. If you feel you need some extra digestive support after meals, using Solgar® Vegan Digestive Enzymes Tablets may help.
This specialist formula includes enzymes that do not contain any animal derivatives including lipase, amylase, protease, amyloglucosidase and cellulose. Each of which target different food groups to give a holistic approach to the digestion from food into nutrients.

WHO IT'S FOR
Hoomans who may need some extra digestive support after meals

HERO INGREDIENTS
Lipase: enzyme that helps body to break down fats
Amylase: digestive enzyme found in saliva
Protease: enzyme that helps body to break down proteins
Amyloglucosidase: enzyme that helps body to break down starch
Cellulase: enzyme essential for digesting plant fibres

HOW TO USE
As a food supplement for adults, chew one (1) tablet with each main meal, to a maximum of three (3) daily, or as directed by a healthcare practitioner. Do not exceed directions for use.
Vegan-friendly, gluten-free