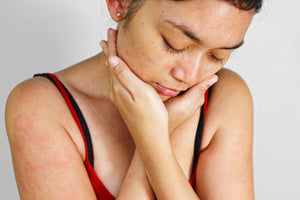 An increasing number of us suffer from sensitive skin, but the skincare industry is responding with barrier friendly solutions that promise not to leave us red-faced...  
Research has revealed that a huge 71% of adults have sensitive skin – that's a 55% increase in the last two decades.* The State of Skin Sensitivity Report created by Aveeno, was compiled to raise awareness of the causes of skin sensitivity and the effects it can have on the mind – and the results indicate a rising issue when it comes to irritated skin. 
So, what can we do about this increasingly present concern? A huge segment of the population will relate when we say that caring for sensitive skin can be challenging – especially when it comes to trying new products and ingredients. Even those formulated for sensitive skin can feel like a gamble when taking the plunge and adding a new contender to your trusted skincare arsenal. The good news is that the past few years have been major for the skin barrier and as such many of the trends you may have had to sidestep from previously now prioritise a gently, gently approach - 'Skinimalism' and 'Moisture Sandwiching,' we are looking at you! 
Trending or not, here are some ingredients sensitive skin types should always have on their radar: 
Squalane: With a structure akin to our skin's natural sebum, squalane oil is praised for its suitability for sensitive skin. It is also anti-inflammatory (and so helps to calm and reduce redness), lightweight and won't clog pores.  
Oatmeal: Oat helps to maintain the skin's moisture barrier with its potent antioxidant and anti-inflammatory properties. Applied regularly, oat can soothe and calm dry skin and dermatologic inflammatory diseases such as pruritus and atopic dermatitis.   
Lactic acid: Although lactic acid is an alpha hydroxy acid like glycolic acid, it is a much larger molecule, which means that it works more slowly and is therefore gentler, yet effective. Lactic acid is the acid to go for if you have more reactive skin. In smaller doses, lactic acid can also hydrate the skin by preventing transepidermal water loss. 
It goes without saying that it is essential to patch test a small area of skin before using a product for the first time and if you experience any unusual symptoms or adverse effects, stop use and head straight to your GP for a check-up.  
Sensitive v Sensitised skin  
Sensitive skin, like dryness, is genetic – something you're born with. Simply put, your skin is cautious and is more susceptible to reactions. People often think that sensitive skin is a skin type, but it's actually more like a skin condition. Sensitive skin is dealing with chronic irritation and a heightened awareness of the skin's state. Ingredients and any new stimuli may trigger it.  
Is your skin red? Is it sensitive to touch? Does it always react to new ingredients? Is this a new occurrence? If you answered 'yes' to all of these, your skin is possibly sensitised. Sensitisation is caused by lifestyle factors, be it overuse of products or neglecting the skin as an organ. Inflammation is the common denominator with sensitised or sensitive skin; those with this kind of skin are prone to spots, redness, rosacea and itchy skin. Coming in from the cold to a severely heated home can sensitise the skin; not using SPF or moisturising can sensitise the skin; baby wipes and micellar waters can sensitise the skin; over-exfoliation, misuse of harsh skincare ingredients and super-hot showers can sensitise the skin. Drinking alcohol also sensitises the skin as it can dehydrate it. It's easy enough to tell the difference between sensitive and sensitised skin. If your skin suddenly starts rejecting certain ingredients after years of accepting them willingly, it may have become sensitised. If your skin is sensitised, it may look thin, feel tight after cleansing and may be red, scaly or bumpy.  
We treat sensitised and sensitive skin in much the same way, but with sensitisation, there needs to be a focus on rebuilding the barrier and care taken not to damage or strip it further. We do this by relaxing on the acids for a while until the skin recovers, balancing the skin's pH and providing it with a means to rebalancing its bacteria (e.g. by using probiotic skincare). All these things can also benefit sensitive skin.