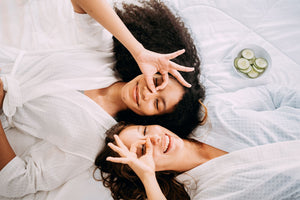 How skincare benefits your wellbeing 
Self-care is often considered an instant feel-good remedy for low periods but when carried out regularly, many hoomans that suffer from anxiety and depression can find that it assists with their symptoms.  
When you are regularly tending to your body's largest organ, skincare is a very literal form of self-care. Think about it: carrying out your skincare routine, AM & PM, is something that requires concentration on the physical act itself. This requires a focus on yourself that you may not be able to make time for at any other point during the day.  
Routine can make us happy 
When there are SO many things happening in life, it becomes easy to fall out of a routine and just live on autopilot. There's nothing wrong with doing occasionally but the structure of a daily routine has been recognised by mental health professionals as having the ability to alleviate anxiety and therefore is thought to be a beneficial way to relieve stress. Zhang et al. (2020) also noted that regular skin care improves one's self-esteem and has a positive impact on self-image. Taking time to invest in practices and products that benefit your skin will help to promote your skin health and allows you to make a habit out of the soothing, repetitive motions of applying your skincare products. Night-time is the ideal time to indulge in more sophisticated routine and may help to aid emotional relaxation before bed. Listening to relaxing music or guiding meditation whilst carrying out your regime can also add to the soothing atmosphere.  
Two ways to indulge in self-care this weekend...  
Create a spa in your bathroom 
Creating a comforting sanctuary in which to cleanse and treat your skin helps you work towards your skincare goals and allows you respite from the busyness of life. I recommend arming yourself with a face mask, a luxurious facial oil and a facial roller for multi-sensory indulgence. 
Commit to a weekly facial 
In my nerdie opinion, a weekly at-home facial pampers your skin and provides much-need stress relief from the daily grind. Combine with a soothing facial massage, gorgeous candle, and cosy loungewear for a truly dreamy experience.