What To Look For In A Night Cream (Member)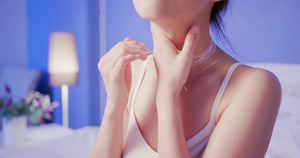 Night creams fall into the category of "add-on products", in the nerdie opinion, as they are not an essential by any means but can give the skin additional ingredients to maximise your results. 

There is undeniably something psychologically soothing about sleeping with a thicker cream or gel on your face. It's the skincare equivalent to the weighted duvets that help you get to sleep faster, and many feel that a lightweight serum or cream can't nourish their skin. However, weight is not equal to nourishment. It's the ingredients that nourish your skin, not the texture of the product! 

We are of the strong belief that if you're going to invest in a night cream, it must be bringing something new and extra to your routine, and not just a duplication of all of the same ingredients. We ain't about wasting money!
Night creams: what to look for
Night creams are beneficial for those with mature or very dry skin, or for those with skin that has become irritated (such as due to over-exfoliation).


If you're looking for a powerful anti-ageing night cream more than anything, turn to the IMAGE The Max Stem Cell Creme (€119.50). Yes, we will admit it is costly, but this is because it is like a chalice of all of the most-effective anti-ageing ingredients in one product. There are 4 peptides in here including Syn®-Ake for collagen renewal, Argireline® for muscle relaxation, Matrixyl® synthe'6 for wrinkle filling and lifting, and SNAP-8® which helps to prevent the formation of lines and wrinkles due to repetitive movements. 

That's not even all: there are anti-wrinkle stem cells, vitamin C, antioxidants, ingredients that restore the DNA damaged by oxidative stress... The list goes on. The point is that this night cream changes the game, it doesn't just play it. 

If you have genetically dry skin or very irritated skin, you should be looking out for ceramides. Ceramides are a fat native to the skin that make up the skin's barrier so we would consider them a genuine "natural ingredient". By backing up your skin's barrier, you skin will hold onto hydration for longer and be less prone to irritation. The IMAGE Vital C Hydrating Repair Creme (€81.50) has ceramides and vitamin A, C and E to help to repair the skin and tackle the daily damage caused by pollution and just life in general.


If you want an anti-ageing night cream but don't want to break the bank, you want something full of hyaluronic acid and potent antioxidants. We highly rate the Caudalie Resveratrol [Lift] Night Infusion Cream (€46.00) because it genuinely helps to keep the skin plump, firm and soft. Resveratrol is one of the most researched antioxidants in skincare, so you're betting on a sure thing when you're using products that contain high amounts of it. 

For tired skin in need of a wakeup call, keep an eye out for brightening ingredients such as vitamin C. Topical vitamin C works to prevent pigmentation and bring about a general glow to the skin, as we're sure you already know.

REN's V-Cense Revitalising Night Cream (€38.00) combines vitamin C for brightening and tackling the free radical damage caused by the environment with calming frankincense oil and firming wheatgerm extract. This is really for those with normal or dry skin, as it contains shea butter and oils which may congest those who are prone to spots.
Do you need a night cream?
If you feel that your skin isn't fully hydrated by your other products, and want the absolute maximum results that you can get, yes, a night cream may be for you. 
If your skin feels comfortable without a night cream and you're seeing results from your current routine, you don't need a night cream, but you can opt for one if you'd like. 
If you would be an oilier human who is prone to blackheads and breakouts, we'd usually say to avoid them. For the most part, your type of skin fares better from hydration that doesn't create a film or layer on the skin! 
How best to use a night cream
After you've done absolutely everything, including cleansed, applied all of your serums and done your facial massage, use a cherry-sized dollop of your night cream from your nipples all the way up to the tip top of your forehead. It sounds like it won't be enough, but split it between your hands and apply half to the decolletage and half to your face and neck. 
Your face isn't the only part of your skin that is exposed to UV rays and physical pollution particles and sometimes the chest can give the game away due to pigmentation, slack skin and lines and wrinkles.
Thinking about a night cream?
Book in for your follow-up consultation and speak with a Nerd or Nerdette about the right choice for you.