A Brand Down Under: The Nerdie Rundown On ASAP Skincare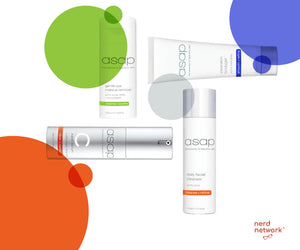 ASAP Skincare has officially landed on the store and we have been excited about this for literal months. Hailing from Aussie, mate, this brand is innovative, concise and active AF, everything we aim for. 
What is ASAP Skincare?
It is Australia's number one cosmeceutical range, having been around for two decades and promising visible results for all of your skin concerns, from pigmentation to problematic skin to lines and wrinkles. ASAP is unique because it was developed with the Oz climate in mind - a harsh one that can have more of an effect on the skin. 
What is special about ASAP Skincare? 
Featuring tonnes of niacinamide (vitamin b3), vitamin C, potent plant-based antioxidants and exfoliating acids, it's a brand after our own big nerdie heart. On top of that, their products use environmentally-friendly ingredients with no parabens, mineral oil, SLS (sodium lauryl sulfate), synthetic fragrances or dyes. 
Naturally, there are no plastic microbeads in the range (go fishies!) and everything is both cruelty-free and vegan-friendly. 
In terms of pricing, we'd consider it reasonable, but fantastic value for the quality you are receiving, with products starting at €15.00 with their SPF lip balm going up to €90.00 for their cutting-edge DNA Renewal Treatment. 
The nerdie faves from ASAP Skincare 
ASAP Skincare Super B Complex (€69.00)
Niacinamide, or vitamin B3, is one of the most well-known and researched pigment tacklers and has the added benefits of improving skin texture and soothing the skin. The Super B Complex contains a whopper amount of it, alongside additionally brightening liquorice root extract.
We love hyaluronic acid but we love cross-linked hyaluronic acid more. Cross-linked hyaluronic acid stays in the skin for longer so that your skin feels plump and hydrated for days on end... Not that you'll be leaving any days between applying this baby. 
This serum is suitable for all and sundry, simultaneously hydrating, improving oil regulation and tackling redness.  
ASAP Skincare Gentle Eye Makeup Remover (€25.00) 
Are you surprised that an eye makeup remover is one of our top picks? We'll explain our reasoning. This super mild eye makeup remover is totally safe for use on eyelash extensions, which is a rare quality in an eye makeup remover. We love a lash'stension so you should probably get your hands on it before Team Nerd snaps them all up... 
ASAP Skincare Hydrating Lip Balm (€15.00) 
Hey! It's another SPF lip balm, baby. What is particularly special about this one is that it contains niacinamide along with alpine rose, a plant extract that is believed to reduce the occurrence of cold sores. Do you hear that sufferers? Wehoo! 
SPF is also key when it comes to cold sores, as UV rays can trigger the HSV-1 virus in your nerves, leading to the inevitable blisters. 
Check out our selection of ASAP Skincare here, or book a follow-up consultation to find out what would be best for you.