How To Care For Your Eyes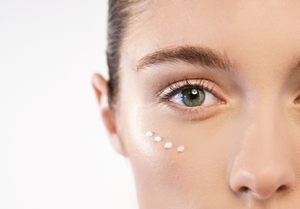 Our eyes are the focal point of our faces, so it makes sense that we'd want to put a little bit of time into caring for them. We get a lot of questions about what to do when it comes to eye-cream - do we recommend any particular eye creams, or how Nerd Networkers can tackle skin concerns around the eye area?
The skin around your eyes is very thin, and this can contribute to your eye area showing signs of age before the rest of your skin. It can mean that your eye area might show more evidence of lines, wrinkles, or puffiness. 
As we age, we naturally produce less collagen, which gives skin its plump and snap. As collagen degrades, it means that skin can become more puffy, or can make dark circles appear more noticeable, as the skin is not as plump and is thinner.
The area around the eyes is also hard-working. Think about how often you blink during the day, how expressive eyes can be (they're called laughter lines for a reason), how much focus we put on our eyes when it comes to contact lenses and makeup. 
There are a few things that you can do for your skin to help to treat any concerns you might have, and also to protect your eye area from premature ageing in the future! Eye, eye, captain.
How To Care For Your Eyes
SPF
The best way to do some preventative eye care is to make sure that you're applying a broad-spectrum SPF every day - one that's eye-safe! It's important to note that not every SPF was created equal.
UV rays have a marked effect on skin, and are the greatest cause of premature ageing. This is something that we are always seeking to delay, but when it comes to areas like those around your eyes, it's even more important. Since the skin around our eyes is already predisposed to ageing more rapidly than other areas of our skin, keeping it protected from sun damage (and, while we're at it, HEV and infrared light too, like that which we're subjected to by our screens!) needs to be a priority. 
Eye-safe mineral SPFs are ideal, as zinc oxide and titanium oxide don't tend to irritate the eyes as chemical UV filters can.
Skingredients Skin Shield SPF 50 PA+++
This lightweight mineral SPF is a physical barrier between you and UVA, UVB, HEV and infrared rays (including the blue light emitted by your screens).

It is safe for use around the eyes, too. It's got a light peachy tint to avoid post-SPF pallor, and prevents photo flashback too. It's suitable for all skin types.
Neostrata Sheer Physical Protection SPF50
This, ultra-sheer, mattifying SPF provides physical broad spectrum UVA/UVB protection with a sheer tint that blends with skin's natural tone. It's suitable for all skin, but especially those prone to redness, sensitivity and congestion. 
Eye Creams
When it comes to eye creams, the nerdie notion is that eyes need a bit of love. Definitely. Do they always need a specialist eye cream? We're not so sure. There are certain ingredients which we would focus on when it comes to dabbing onto the eye area. These include:
Vitamin A (retinyl palmitate, retinol and other retinoids). This super-vitamin is a nerdie necessity, and it helps to improve the density of the skin, repair pigmentation, speed up healing and prompts the production of collagen
Vitamin C, a potent antioxidant, and an ingredient which can help to tackle pigmentation and brighten up dark circles
Peptides which also prompts collagen production
Hyaluronic acid, a humectant ingredient which draws in moisture, hydrates the area and plumps it up to reduce the appearance of lines and wrinkles
Some say that the eye area needs fewer actives due to the thinness of the skin… Do go slow when applying eye-safe serums around the periorbital area and on the brow bone, and make sure your skin can handle it. 
If you are finding these ingredients in serums (which are safe for use around the eye area, of course), then we're not sure you need a second, specialist cream just for your eyes. 
From the age of 25, collagen production slows down, and so this is the point at which you need to pay a bit more attention to what ingredients you're applying to your eye area. 
If you find your eye concerns are quite severe, and serums and SPFs aren't having the effect you want, then an eye cream might be the move.

We do have some nerdie favourites when it comes to eye creams …
Environ Youth EssentiA Vita-Peptide Eye Gel
This has a very light gel formula which contains an array of essential vitamins, antioxidants and peptides which help to reduce the appearance of wrinkles and fine lines around the eye area. Perfect for application overnight - a grain of rice sized amount spread between both eyes is ample, patted in with your ring finger!
This eye gel is cooling and brightening, and helpful in reducing under-eye puffiness and dark circles, with arnica, cucumber and aloe-vera.
Apply a single pump to clean fingertips and dot under eye from outer to inner corner, then gently smooth using small circular movements. You can use it day and night.
Facial massage 
If puffiness in the eye area is getting your goat, then it might be time to consider facial massage! If you prefer a tool to help you out, you can use jade roller jade roller to help drain excess fluid from your face. This can pool around your eye area, particularly after a night of sleep, and rolling can help drain it away and boost circulation, too. You can also pop your jade roller in the fridge if you're feeling particularly puffy. 
If you prefer the old fashioned way, you can use clean hands to smooth the tension away, too, using massage techniques. You have to go super-easy on your eyes though, because remember how delicate they are? Use your ring finger, as it's your weakest!
Nichola Joss is a leading facialist and creator of the Inner Massage - you can find her on Instagram here and follow along for facial massage tips! We were lucky enough to host her this week and gen up on our nerdie facial massage knowledge!
Caring for your eyes on the whole can also mean eating a healthy diet and keeping your hydration levels high. Essential fatty acids are key when it comes to keeping your skin barrier strong. If your skin barrier is strong, then it means that your skin is less likely to lose hydration. When it comes to keeping the area around your eyes in good condition, then hydration is a top priority. And don't forget the sunglasses and hats if you're spending time in the sun!