How To Include Seoulista Sheet Masks In Your Routine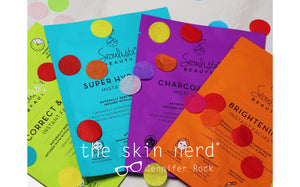 You're getting everything your skin needs for long-term health from the routine selected for you by your Nerdette… But what about the short-term? Sometimes our skin needs a bit of a kick – after a holiday, before a big event or after a big event (drinkles, y'all).
The easiest and fastest way to do this is a sheet mask and we have big love for Seoulista's Instant Facials, now stocked on The Skin Nerd store and available to all! 
You can have a bit of fun with masks in your routine – they are really more of an add-on than an essential so we'd be fond of mixing and matching. In general, we'd say to use a sheet mask once or twice a week.
Here's a handy guide for how to choose which Seoulista sheet mask you need and for what… 
Dry, Dehydrated, Post-Holiday, Pre-Night Out, Post-Night Out, Mature Skin & All Skin
The Seoulista Super Hydration Instant Facial is packed with hyaluronic acid, which draws moisture out of the air and pulls it up to the upper layers of the skin to plump you up. We find that it can temporarily reduce the appearance of lines and create the perfect canvas for makeup…
Believe us, hydration like this has to be tested to be believed!
Click here to get your Super Hydration Instant Facial
Oily Skin, Large Pores, Blackheads & Spots
The Seoulista Charcoal Detox Instant Facial does what it says on the tin: charcoal detox. Charcoal is absorbent and so can draw impurities from the surface of the skin. This mask also helps to temporarily reduce the appearance of large pores – it gives your primer a bit of a helping hand!
Be warned – this sheet mask is pure black, but don't worry, it won't stain you. 
Click here to get your Charcoal Detox Instant Facial
Dullness, Pigmentation, Mature Skin & Exfoliation
The Seoulista Brightening Instant Facial contains vitamin C to get that glow going and AHAs to boost skin cell turnover and slough off those dull old dead skin cells. For best results, use this the night before you want to see a result. 
Skip this one if you're in the midst of an inflamed breakout – some find that vit C (and some AHAs) can irritate it!
Click here to get your Brightening Instant Facial
Redness, Irritation, Inflammation, Breakouts & Large Pores
The Seoulista Calm & Correct Instant Facial focuses on witch hazel and eucalyptus leaf which help to soothe redness, temporarily tighten pores and slick off oils. This mask is also super antioxidant.
This one is fab to have on hand if you're prone to sudden onset breakouts.
Click here to get your Calm & Correct Instant Facial
Get masking, Nerd Network!