IMAGE Ormedic 2.0 - The Nerdie Scoop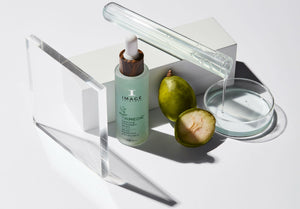 IMAGE Skincare Ormedic 2.0 is about to hit our virtual shelves - let's take a look!
The IMAGE Ormedic range has undergone a snazzy overhaul, and we're giving you a sneak preview of what's on offer.
Keeping its roots (get it? You will) firmly in the natural world (oh ho), IMAGE is launching an improved Ormedic collection. With Ormedic being a nice little amalgamation of 'organic' and 'medical', this version has a greater focus on natural ingredients, while maintaining its clinical credentials. The new range focuses on more sustainable, eco-friendly and organic alternatives for anyone looking to get a bit greener and more in touch with the earth when it comes to their skincare. 
This complete reformulation of the brand resulted in big changes to the ingredients which form the basis of the range. There's a strong focus now on the inclusion of grape water and an organic, 7-blend formulation. This is the new basis of each product within the range. 
Ormedic now contains specifically certified organic ingredients, and note that every item in the range is now pH balanced. The pH range of anything goes from acidic to alkaline, along a scale of 0-14. 7 on the scale is pH balanced - water. But skin is healthiest when slightly acidic, around 5.5 on the pH scale. Ormedic products strive to keep the skin in that healthy pH range, which protects the skin's barrier, and helps prevent premature ageing and dryness.
Excitingly, considering our increasingly green gaze (in the eco-sense rather than jealousy), both the outer packaging and the product packaging are recyclable, which is very good news. There is still plastic used in some of the packaging, but IMAGE admit they are striving to be sustainable regarding future activities. 
What Does It Promise?
Ormedic's relaunch is promising products free of parabens, sulphates, artificial fragrances, phthalates, mineral oil, triclosan, PEGs, synthetic dyes, and petrolatum. In the nerdie world, we don't particularly think there is anything wrong with parabens (strawberries are a paraben), sulphates (sulphates are really important in cleansers when including particular ingredients), mineral oil (it's a great emollient) or PEGs… Fragrances don't annoy every single hooman's skin, but we're not mad on petroleum products in skincare as many find them comedogenic. 
If you care about keeping these ingredients out of your own routine, this version of the Ormedic range could be your new favourite thing.
Is it organic?
The range is not 100% organic, although they do use specific certified organic ingredients, as well as clinically effective ingredients in order to achieve the desired results. 
Do the products have a scent?
Now, we do stand by our catchphrase - smells don't change cells, but since you're asking …
Yes, Ormedic 2.0 does have some scent to tickle your olfactories (fancy). 
The Ormedic Bio-Peptide Créme, Ormedic Balancing Lip Enhancement Complex and the Ormedic Sheer Pink Lip Enhancement Complex all have a light orange and vanilla scent. You can detect a fruity scent in the cleanser, serum and masque too.
Ormedic Certified Organic Foundation
IMAGE have set out three key organic ingredients which form the basis of the range. 
Organic Grape Water
This natural grape water is obtained during the concentration step of fruit juice production. It contains a balance of mineral salt, trace elements and essential oil. If you are super sensitive to the inclusion of essential oils in a product, make sure to patch test before use! 
Organic 7-Blend
This blend is composed of seven extracts: red clover blossom, burdock root, calendula, lotus flower, tamarind, turmeric and Japanese green tea. Red clover, burdock root and calendula soothe, lotus flower and tamarind work to moisturise, and finally, turmeric and Japanese green tea are both well-known and potent antioxidants.
Organic Aloe Vera
It's almost the last word in soothing, isn't it? A go-to in case of burns, be they culinary or sun-related (ouch), it's present in the Ormedic range to soothe irritated skin, provide antioxidants and reduce the appearance of redness. 
This combination provides the basis for the full Ormedic range. It sounds like a bit of a dreamy mix of organi-goodness and soothing ingredients, a recipe for a good skin day. 
Our Nerdie Picks
There's a full range to discover, but here's what we have our nerdie eyes on...
IMAGE Ormedic Balancing Gel Cleanser
New global price: €38.00 (€1.00 up on RRP, same size ml)
This oil-free cleanser contains hyaluronic acid, panthenol (which is derived from Vitamin B-5) and Calendula extract, which is high in carotenes and has antibacterial properties. It's soothing and nourishing, and is recommended particularly for irritated or sensitive skin. 
IMAGE Ormedic Balancing Bio-Peptide Crème
New global price: €84.50 (€3.50 up RRP, increase of .3g to 57g)
This night-cream is particularly recommended for hoomans who are taking medication for acne. It's formulated to soothe moisture-depleted skin, and is anti-inflammatory and skin-repairing. Sounds like a treat for seriously dry skin, and a really soothing product for anyone going through acne treatments in particular. 
IMAGE Ormedic Balancing Lip Enhancing Complex
New global price: €28.00 (€3.00 up RRP, same size ml)
Available in both clear and sheer pink for a hint of colour, these lip treatments improve lip moisture, and can make your lips appear both more firm and more full! We're loving the hint of pink ourselves - and a bit of lip-care is very welcome at this time of year!
It's a particular favourite of Tara O'Farrell, Pippa O'Connor and Michelle Regazolli Stone - otherwise known as Mrs. Makeup!
IMAGE Ormedic Balancing Antioxidant Serum
New global price: €74.50 (€3.50 up RRP, same size ml)
This balancing serum is super hydrating and can strengthen your skin's natural defences against damage. It's a great serum for playing the long-game when it comes to skin health, and is particularly handy for skin needing a bit of soothing. 
IMAGE Ormedic 2.0 will be hitting our nerdie shelves very soon - it's so exciting to see a brand like IMAGE considering the green consumer and us green-feelin' nerds. 
If you have any questions, head to our Nerdie Chat, pop us an email or give us a buzz!