Our Core 4 Bundle - Get Your SPF Free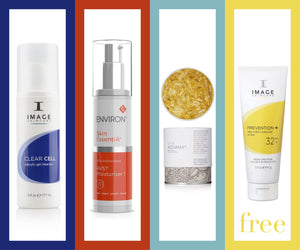 You know that we here in Nerd HQ believe in focusing on your Core 4, being your cleanser, your vitamin A serum, your nutrition and your SPF. Once you nail this, you can add on your recommended (and favourite) masques, spot treatments and whatever you fancy, but at the end of the day, your Core 4 matters the most. 
That is why we are introducing the Core 4 bundle deal!
When you buy your cleanser, Environ AVST Moisturiser and supplement, you get an SPF for free. It's a nerdie helping hand to get you that bit closer to skin health. 
The products included in the Core 4 bundle:  
Cleansers: 
Environ AVST SkinEssentia Vita-Antioxidant AVST Gel or Moisturiser 1-5 
Supplements: 
Advanced Nutrition Programme Skin Omegas+ (60 capsules)
Advanced Nutrition Programme Skin Accumax (60 capsules) 
Advanced Nutrition Programme Probiotics 
Ts & Cs
When you add your full Core 4 of the products mentioned above to your cart, the discount will be applied automatically. 
Active from 3pm, Monday the 25th of February. 
Cannot be used with any other offers or discounts. 
Can be used as many times as you like! 

Exclusive to Nerd Networkers.