Positive Skincare Changes To Beat Your January Blues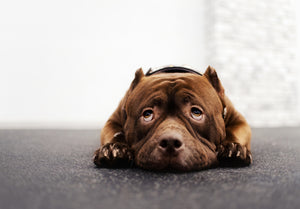 If January blues are getting you down, then we'd like to assure you that you're not alone. Blue Monday is supposedly the most depressing day of the year - and it doesn't even occur until the third Monday of January. Let's be honest with ourselves - all of January feels like one long Monday. 
After the excitement of Christmas, January can seem like an everlasting and increasingly bare month, in which we have to deprive ourselves of joy (read: pudding). However, it really doesn't have to be all bad. That's why we've come up with this handy list of positive skincare changes which you can make this month, to beat your January blues!
What To Change To Tackle Congestion
We don't know about you, but many of us have been hard at work with our (mineral) concealer this week, despairing over the crop of pimples which seem to have been willed into existence by pure January spite. Of course, we know it wasn't January spite - it was us. 
Why Am I Breaking Out?
Christmas meant late nights, some involving a tipple or two (or maybe more), and might have resulted in one or two nights where double cleansing our makeup away was beyond us.
It's likely that Christmas saw us eating more sugary food than we might normally, which also can lead to breakouts and congestion. 
If you've caught the dreaded January Lurgy, you might be suffering from a cough, cold or sore throat, and unfortunately, this can also mean that your skin can be a bit more dull and congested than normal. If you're using lotion-based tissues, they might feel lovely on your nose but could be irritating your skin. Of course, simply blowing your nose over and over will do the job at irritating all the delicate skin around your nose nicely.
Acne is also an infection, so if your body is busy fighting off a bug, cold, or flu, it might dip when it comes to keeping acne at bay, causing a flare-up. As well as this when you've got a cold, your body uses moisture to make mucus (yuck, just yuck) which can lead to dry, irritated and unhappy skin.
Also if you've started out your January at a run (literally) and are getting back into exercise (go you!), you might find your skin more prone to breakouts than usual.
Perhaps you haven't been removing your makeup fully before you start your routine, or you aren't washing your face soon enough after you've finished working out. You might also be touching gym equipment and then touching your skin, spreading bacteria and causing your skin to respond negatively.
What To Do About Breakouts
We know how it is, but there is a solution. During this season of congestion, we turn towards our friend, salicylic acid. 
Salicylic acid is a chemical exfoliant which penetrates deep into the pore to clear it of oil, pollution, makeup or any buildup which might otherwise result in congestion. Skingredients Sally Cleanse is our own creation, and contains 2% salicylic acid, which is the highest percentage of salicylic acid available for purchase in the EU. For this reason, we recommend you only use it three times a week.
You can also use Sally Cleanse as a micro mask, by leaving it on the skin for two minutes after you've massaged it in, before cleansing it off. Or you can use it as a spot-zapper, by applying it directly to a spot and leaving it for no more than three minutes, before washing it away. We don't recommend this if you've got very sensitive skin, however!
You could also try Environ Focus Care Clarity+ Sebu-Clear Masque, ideal for congestion and acne-prone skin. This mask helps to clear up breakouts, and also gently exfoliates your skin - just what you need after a bout of congestion. It contains lactic acid for exfoliation, salicylic acid for dissolving debris in the pores and antibacterial, anti-inflammatory tea-tree oil, too. You can apply it in an even layer over your skin three times a week, or as advised by your nerd or nerdette. A god-send for January skin.
Dry Skin, Do Care
Why Do I Have Dry Skin?

Dry winter skin getting you down this January? 'Tis the season for it. Wind and weather all do their bit to disrupt the skin's barrier, as does the rapid switch between heat and cold which comes from moving from central heating to outdoors and back again. An impaired skin barrier means that your skin won't be as effective at retaining moisture, and might lose more than it should through transepidermal water loss (TEWL). 
If you're sick, too, your skin can be particularly prone to dryness. Colds have a wonderful ability to reduce all the skin around our lips and noses to flakiness at the drop of a hat, as we blow our noses, curl up in overheated rooms and let our exfoliation and skincare practises fall by the wayside. The virus itself also uses our body's moisture to create mucus rather than keeping our skin hydrated as usual.
How To Tackle Dry Skin
There are plenty of tips and tricks when it comes to dealing with dry winter skin but one of the main things to bear in mind is that you still need to exfoliate. Exfoliating can remove that flaky layer of skin and help your serums or moisturisers penetrate the layers of skin beneath, tackling the root of the problem. 
Serums containing hyaluronic acid can also be super helpful when it comes to drawing moisture to the surface of your skin, as hyaluronic acid is a humectant. This can be helpful when it comes to tackling dry and irritated skin, but in the winter, some hoomans might need something heavier to lock hyaluronic on as otherwise it can be drawn out from the skin.
You can heap ceramides onto your skin - these are the lipids which maintain healthy skin barrier function. Skingredients Skin Good Fats contains ceramide NP, as well as being an anti-irritant. ASAP Skincare Advanced Hydrating Moisturiser also contains ceramides. 
Self-Care in January
Maybe January blues have already got you feeling battered - the start of a new year doesn't always mean bright new beginnings to everyone. If the blues are getting you down, then we have one piece of advice - be kind to yourself.
It might be worth indulging in a bit of self-care, and to us, self-care means only one thing: face masks.

There is a face mask to suit every hooman, every skin concern and ever budget too. It's the perfect thing to whip on any evening in front of the telly, or book, if you're so inclined. 
The Add-on Beauty Dry Mask - Vegan Nutrition is suitable for four uses, and is - you guessed it - vegan, too! 
The Seoulista Correct & Calm Instant Facial Sheet Mask is made of biocellulose, meaning it's highly absorbent, and also biodegradable. This is a great shout for skin which is a bit congested or inflamed.
YonKa Hydra N˚ 1 Masque is a great mask for this time of year. It's ideal for wearing overnight, and is super hydrating and soothing. It contains regenerating vitamin A, jojoba for antioxidation, and soothing vitamin B5 to name but a few. When worn overnight, it's perfect for restoring hydration which might have been zapped from the skin - particularly useful during dry January!
Up Your Essential Fatty Acid Intake
January doesn't have to be all about denial. You can do your skin a good turn by upping your intake of essential fatty acid-rich foods like fish (sushi is a great option!), nuts, like walnuts or pistachios - even food like oysters are high in essential fatty acids. 
Essential fatty acids increase hydration in the skin, and helps to tackle inflammation in the skin. And foods rich in essential fatty acids are pretty delicious too, in our opinion.
Whether it's Veganuary, Dry January or Blue January for you at the moment, we hope some of these skincare tips help you feel a bit jollier about 2020. At least spring is around the corner, and that's undeniably good news. 
If you'd like to know more or would appreciate a little more advice on how to get your skin sailing through January, don't forget that you can NerdsApp us on +353 87 707 0936, or you can give us a buzz on +353 1 564 9362 - just press 1!