Pre-Order Skingredients on the Nerd Network Store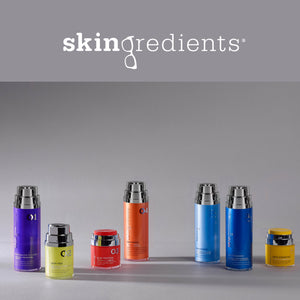 ...You've known before anyone else. You've supported us from day one. You've been tempted into pre-ordering Skingredients. 
Now, Skingredients is available to pre-order on the Nerd Network store so you can pop the Core 4 or Mix + Match products into your basket with your other favourites. Easy like a bank holiday Sunday morning, are we right? 
Please note: your Skingredients® products will ship from the 10th of June! 
The products in the range include... 
Core 4: 
PreProbiotic Cleanse - Prebiotic, Probiotic + PHA Cleanser (€25.00, 100ml) 
Skin Veg - Pre-Serum + Penetrant Enhancer (€42.00, 30ml) 
Skin Protein - Vitamin A, C + E Serum (€42.00, 30ml) 
Skin Shield SPF 50 +++ - Broad Spectrum SPF (€42.00, 100ml introductory size) 
Mix + Match:
A-HA Cleanse - Lactic Acid + PHA Cleanser (€25.00, 100ml)
Sally Cleanse - Salicylic Acid Cleanser (€25.00, 100ml) 
Skin Good Fats - Ceramide Barrier Balm (€42.00, 30ml) 
They're also available from www.skingredients.com and pharmacies, department stores and selected salons nationwide from the 6th of June!