Skincare Application Tips from Team Nerd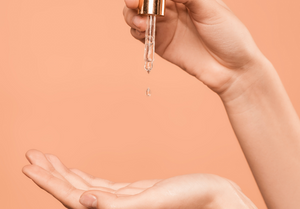 When it comes to applying skincare, our Nerdie Team have a few tips and tricks up their sleeve to make the most of their skincare, and we've got some of their tricks to share as well as a recap of our favourite ways to apply each of the hard working element of your skincare routine.

Tips from Team Nerd
Ben, the king of skincare = self-care shared with us some of his key tips and tricks for applying and enjoying your skincare.

"Whack on all your serums at once, don't wait too long after cleansing to apply them, so you still have moisture on the skin – you can help to trap that moisture in the skin by applying your serums straight away. If your skin has a little moisture left in it, it helps with the absorption of your serum and it also makes your serums stretch a little bit further.

Always mix serums together, not because it's necessary, but because it makes life easier!"

We agree with Ben; mixing serums is super helpful for saving a bit of precious times. Hayley agrees too; "I love to mix 1-2 pumps of Skin Veg with 1-2 pumps of Skin Protein in my hand as a cocktail, and then apply to the skin from the nipples up and including the eye area!"

Ben has a few tips on face masks, too.

"I like to use a brush to paint on the mask because I feel like I get a nice even layer if I do so, but if you prefer to use your fingers, you certainly can."

Plenty of face masks come with brushes, notably Environ Sebu Mask and Tri Bio Botanical Mask.

Ben continues, thinking about application and self-care.

"When I work with any sort of products that I would apply to the skin, the way that you apply them aren't the most important but getting them on is. From a personal perspective and most therapists would agree, you massage the product onto the skin following the correct way for lymphatic drainage. In essence, that means that you have pressure when you move product from the centre of your face out wards your hairline, along your hairline, down towards your temple, and then moving from the centre of your nose to the temples, down to your earlobes and gradually working your way from the centre of the face outwards and pushing any lymphatic fluid down to the terminus, by the collar bone.

Taking the time to massage the product in feels nicer, more luxurious, feels like you're doing something nice for yourself!"

Hayley gave us some of her favourite ways to use Skingredients as part of her daily routine.

"Apart from cocktailing Skin Veg and Skin Protein, PreProbiotic Cleanse is one of my favourites as it cleanses and hydrates the skin in 60 seconds. I can use it in the shower and also to remove my eye makeup.

Skin Shield acts as a primer for the skin so it saves me time of popping on an extra product when i am doing my routine!"

Louisa gave us some of her tips for the best way to get cleansing.

"I generally use a two-euro sized amount and I put in the palm of my wet hand, massage it into my skin and use my wet hands - I go to town, scrubbing it around my nose, chin, eyeline, hairline – where everything sits! Same with a foaming cleanser, if it has an acid, make sure you do it for a minute to make sure it has time to work!"

General Application Advice

When it comes to portion control and skincare, we have a lot of opinions about how much to use. The Skingredients range is measured in pumps, or in coin-sized amounts, which should give you an indication of just where to start when it comes to how much product to use.

Cleanser

For a cream cleanser, we suggest a euro coin sized amount in the palm of your hand, also spread between your hands and applied to damp skin. Skingredients PreProbiotic Cleanse is a good example of a cream cleanser - we suggest two pumps of it to make the coin sized amount, as Louisa mentioned.

Amounts of cleanser and methods of application differ depending on the cleanser that you're using, or the consistency of it.

When it comes to a gel cleanser - like IMAGE Clear Cell Clarifying Gel Cleanser, we suggest a chickpea sized amount, spread between wet hands, and then applied to your face. Massage this into your skin for at least 60 seconds to give the active ingredients a chance to work.

Serums

The general rule for serums is to tap them into your skin, as this process mimics the massage technique tapotement, by which tapping the skin stimulates blood flow.

Apply the pumps of product as recommended by your skincare consultant or as is listed on the product information, and spread this between your hands quickly, before applying it to your face.

Moisturiser

For moisturiser, if you like to use it, you could mimic the kneading technique, by spreading product over your face, neck, and décolletage with the palms of your hands, like you're kneading bread. Nipples up, baby.

Eye Cream

If you're using eye cream, then a grain of rice sized amount is ample to cover both eyes. You should tap this into your skin with your ring finger - the weakest of your fingers.

SPF

Chemical SPF relies on a chemical interaction with your skin cells to protect, while mineral SPF uses zinc oxide or titanium dioxide to reflect the ultraviolet rays of the sun and need to form a physical barrier - but both should be patted into skin!

Masks

For masques which might come in a tub, you should always use the spatula or brush provided for an even application, and to get the correct consistency sitting on your skin!

If you're ever stumped by your skincare products, and can't quite decide the best method of application, you can always get in touch with your Nerd or Nerdette through NerdsApp on +353 877070936, or on consult@theskinnerd.com!