Skinformation: New Neostrata & Murad Products On The Store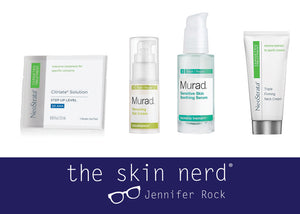 As you may know, we've introduced some new products from Neostrata and Murad to the store. Why? Well, to give you guys a bit of choice and variety. Some skingredients that treat the same concerns work with certain skins better than others! Feel free to contact us if you're interested in including any of the new products in your regime or you'd like to swap something out for one of the fresh alternatives but first you need to know what they are and what they do...
Neostrata Glycolic Treatment Peel Kit (€60.59)
The Neostrata Glycolic Treatment Peel Kit consists of single use solution-soaked pads that contain 20% AHA consisting of both glycolic acid and citric acid. All you need to do is swipe a pad across your face, neck and décolletage at night time. They are designed for being used once a week but they are strong, strong, strong so your Nerdette may advise you otherwise. 
They are one of the only products that will come before your AVST serum in your routine. Be warned: these are serious. They do not mess around. You may feel a tingly sting and see a little bit of redness after use. Really and truly, avoid the delicate lip and under-eye area. 
We wouldn't advise these for those that find glycolic acid brings up sore, under the skin congestion but we can discuss this in more detail if you contact us! 
These are ideal for those of you who have been using glycolic acid for a while now and have mature or dull skin but are also fab for those who have pigmentation or scarring of any kind.
Murad Renewing Eye Cream (€79.50) 
The Murad Renewing Eye Cream has been brought to the store due to the sheer demand for eye creams from you Nerd Networkers - we heard you! We adore this as it targets puffiness, lines AND dark circles... A true triple threat. It contains palmitoyl pentapeptide-4 AKA Matrixyl which independent studies have shown can help the appearance of wrinkles and lines. 
It has a rich, thick creamy texture and a little goes a long way. 
Neostrata Triple Firming Neck Cream (€50.00)
The Neostrata Triple Firming Neck Cream is full of patented ingredients... This isn't a surprise, they are truly movers and shakers. It contains Pro-Peptide and NeoCitriate to stimulate collagen synthesis as well as NeoGlucosamine which is key for the skin's own production of hyaluronic acid and speeding up cell turnover. Apple Stem Cell Extract helps the skin's own stem cells so that your skin believes it is younger and thus behaves as such. 
It truly improves a lax, slack neck and can help the jawline contour appear more pronounced also. It is a must for someone looking to treat the dreaded turkey neck. 
Murad Sensitive Skin Soothing Serum (€59.50) 
The Murad Sensitive Skin Soothing Serum is ideal for those with a reactive, dehydrated skin. It's full of sodium hyaluronate, the salt of hyaluronic acid, for maximum hydration and plumpness as well as magnesium ascorbyl phosphate, the form of vitamin C best suited to sensitive skin due to the fact that it doesn't irritate the skin, and vitamin E. 
It soothes, it contains antioxidants and it hydrates... What more could you wish for?!  
If you're interested in having any of these products available to you on the store, contact
consult@theskinnerd.com

or hit up the nerdie virtual chat in the right hand corner of the screen right now!