The Key Ingredients For Pigmentation (And The New Murad Product That Contains Lots of Them)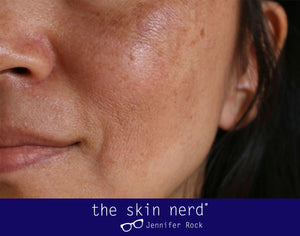 Here at The Skin Nerd, we genuinely believe that when it comes to pigmentation, whether it is post-inflammatory marks like marks after spots, age spots, sun spots and "freckles" that aren't truly freckles, it requires a multi-pronged approach. Chemical exfoliation is one part of the process, as is prevention using SPF, but if you want the best results, you need something in your routine that prevents pigment from worsening or forming whilst tackling it simultaneously.
We have welcomed a new pigmentation-correcting serum to the range already on the store: the Murad Rapid Age Spot Correcting Serum. Team Nerd are perhaps literally in love with it – all who have tested it are coming back with rave reviews.
How it works
The Murad Rapid Age Spot Correcting Serum brings together 3 super powerful ingredients when it comes to pigment: niacinamide (otherwise known as nicotinamide or vitamin B3), hexylresorcinol (an alternative to hydroquinone, a well-known but now illegal lightening ingredient), and plankton extract.
Let's take a look at what we know about niacinamide and hexylresorcinol…
Niacinamide
Niacinamide or vitamin B3 is a water-soluble vitamin that is proven to help inhibit the transfer of melanosomes within the skin… In English, it stops one of the processes that allows pigmentation to form. As well as this, in studies, it was shown to increase the general brightness of the skin.
 It is also shown to help with congestion and the structure of the skin, so can prevent the formation and help the appearance of fine lines and wrinkles. It really is a busy B of a vitamin! Niacinamide is shown time and time again in studies to be highly effective when it comes to pigmentation so you can place your bets on it.
Hexylresorcinol
Even if you haven't come across hexylresorcinol in skincare before, you may know it from your cold and flu kit! It is an antiseptic ingredient that works as a local anaesthetic so it is often found in sore throat medication and in mouthwashes.
When it comes to skincare, it is an extremely potent tyrosinase inhibitor. A tyrosinase inhibitor is an ingredient that can prevent an enzyme called tyrosinase from triggering the process in which excess melanin is produced. Too nerdie?! Essentially, it can stop your skin from panicking and making too much melanin which is why we are left with pigmentation! 
Other ingredients
On top of this, it contains vitamin C in the form of ascorbyl glucoside – a highly photostable form that notably works particularly well with niacinamide to help with lightening pigmentation. Vitamin C is an antioxidant so it will help to protect your skin from free-radical related damage.
The less nerdie bit
Here in Nerd HQ, the texture of a product is the least of the concerns – we just want all the fabulous active ingredients – but to ease your souls, this serum is a very light, smooth texture that sinks into the skin incredibly well.   
In terms of where it fits into your routine, we would tend to say to pop it on after applying your Environ AVST, both AM & PM. As an active product, if you think this is for you, contact us by email at consult@theskinnerd.com, by nerdie virtual chat (the bubble in the bottom right-hand corner) or by phone if you'd like this to be available to you on the store.
Other pigmentation products on the store
Neostrata Enlighten Pigment Lightening Gel (€19.00)
Caudalíe Cell Renewal Night Cream (€33.00)
Looking to tackle pigment but it wasn't an issue when you had your initial consultation? Contact us or book in for a follow-up consultation!