The Nerdie Guide to Vitamin C Serums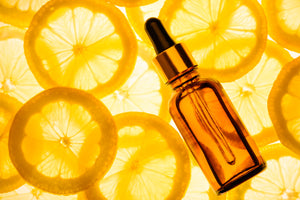 Vitamin C is a core anti-ageing ingredient that has so many benefits for all skins. Vitamin C works to brighten pigmentation, protect from environmental damage, boost our skin's production of collagen and some forms even help with congestion. It's an all-rounder, and an ingredient that comes in so many forms and products that it can suit everyone. It's your skin C-viour.
Here is the nerdie edit on the vitamin C packed products that we love for your individual skin concerns…
For oilier skin:
The form of vitamin C you'll find in this is magnesium ascorbyl phosphate, or MAP, which is a highly stable form that doesn't degrade in hydrating, water-rich formulas. It is particularly effective as an antioxidant and as a brightener, as it helps to slow the production of melanin (pigment).
The Water Burst is not quite a serum. It is unlike any consistency you've come across before, guaranteed, as when you rub it briskly on to the skin, it disperses into a light fluid and the hydrating bubbles are activated, providing instant moisture to the surface of the skin. From this description, you've probably guessed that hyaluronic acid is a key player in this formulation.
It is incredibly lightweight so it is fabulous for those who hate a thicker, perhaps stickier serum or cream. As an added bonus, it also contains anti-ageing peptides.
For pigmentation:
Although not strictly a vitamin C serum per se, we adore the Murad Rapid Age Spot Correcting Serum when it comes to pigmentation. This product came out in 2018 and features the most innovative formulation for getting rid of pigmentation at home.
In terms of the vitamin Cs it has, you've got both pure ascorbic acid and MAP in there, alongside niacinamide (vitamin b3), a proven skin brightener, and plankton extract. You'll also find a little something called hexylresorcinol, which is the ingredient in throat lozenges that numbs your pain. Hexylresorcinol is actually believed to be a better brightening ingredient than hydroquinone, which is a potent skin lightener (that is illegal in the EU).
For dry skin, redness, rosacea and sensitive skin:
This slightly richer serum has a combination of four different types of vitamin C, namely ascorbic acid, the purest form, tetrahexyldecyl ascorbate, an oil-soluble form that penetrates easily, magnesium ascorbyl phosphate and ascorbyl palmitate, an oil-soluble vitamin C ester.
This blend of vitamin Cs means that the serum will work as your antioxidant serum, your daily pigment protector and your anti-ageing serum. Due to the oil-soluble forms of vitamin C, it's also suitable for use on oilier or congestion prone skin.
Like all of our favourite serums, there's also hyaluronic acid and green tea in there as your plumping, hydrating and additional antioxidant ingredients.
For mature skin:
The Biolumin-C serum is designed to allow as much vitamin C to penetrate into the skin as possible, and uses two newer forms of vitamin C: ascorbyl methylsilanol pectinate and aminopropyl ascorbyl phosphate. Count your blessings that you never have to say these out loud. Aminopropyl ascorbyl phosphate is known for its pigment-preventing properties specifically, so this is a fantastic serum for those seeing uneven skin tone as they get older.
Including lactic acid in the formulation means that it speeds up skin cell turnover, which naturally slows down as we age. When skin cell turnover is operating a bit faster, skin will be better hydrated, brighter and the appearance of lines and wrinkles will be reduced.
For skin prone to a few spots, "normal" skin, redness and dullness:
IMAGE Vital C Hydrating Antioxidant A C E Serum (€64.00)
Another IMAGE serum? Yes, really, and there is an interesting IMAGE Skincare history tidbit to explain why. Vital C was actually the first IMAGE range in existence, as the founder Jana Ronert, suffered from rosacea and strongly believed in the powers of vitamin C.
Because of this, IMAGE have some phenomenal vitamin C products. They've been formulating it for decades, they know their stuff.
Inside, you'll find tetrahexyldecyl ascorbate, magnesium ascorbyl phosphate and sodium ascorbyl phosphate. Sodium ascorbyl phosphate is a form of vitamin C that doesn't get a lot of attention, and we don't know why. It is highly stable and not easily degraded by light.
Now, get this. Even at a concentration of only 1%, SAP is shown to be antimicrobial on P. acnes, the acne bacteria, for up to 8 hours after application!
We cannot rave enough about this serum because it also has vitamin A (can we get a vitamin A-men?), a polypeptide complex, green tea extract, gotu kola (centella asiatica) extract and brightening bearberry extract.
Anti-aging, anti-congestion, antioxidant and anti-inflammatory effects… All in one beautiful serum. It is what dreams are made of.
Are you interested in any of these products, but haven't been recommended them? You can contact us 7 days a week, during the day or in the evening, on the Nerdline at
+353 1 5649362 or by email at
consult@theskinnerd.com
.
Alternatively, book in for your follow-up to update your routine and maximise your skin results!