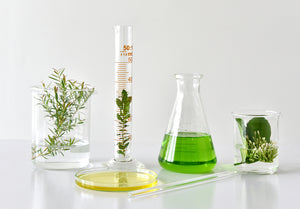 We're still trying to cram the last few sweet wrappers underneath the sofa and out of view, so no one could blame us for looking forward into a fresh new year. We're dusting ourselves off, and having a look at what 2020 could offer us.
Considering the trends through 2019 and what we might predict for 2020, we're keeping an eye on so-called 'clean' skincare, and seeing what this looks like. Should we be making more of an effort to use 'clean' products in 2020?
What Does Clean Skincare Mean?
So what, precisely, does clean skincare mean? Is it free-from skincare? Gluten-free skincare? Fewer air-miles skincare? Alas, here's the truth - no one is 100% sure because it's more of a buzzword or marketing jargon than a regulated term.
We all have an idea of what it entails - perhaps a lack of 'artificial' ingredients, maybe more sustainable - but we can't be sure! The issue with calling certain skincare 'clean' is that it makes other types of skincare seem a lot less desirable, so we've got to be careful when we're throwing these descriptors around. Clean is not a scientific term, after all. 
Is Clean Skincare Better Than Other Skincare?
Often 'clean' beauty products will have a lengthy list of products that they don't contain, with big hitters on this list often including parabens, sulfates, SLS, petroleum byproducts, fragrance and other 'nasties'. It might be promoted as 'natural', 'organic', or 'without preservatives', but it's important to do your research on these.
We are fully aware that particularly sensitive skin can benefit from a lack of these particular ingredients, but sometimes what's put in to replace them can be just as irritating to skin which has an intolerance - for example, essential oils.
Sometimes, you can be better off using the 'full-fat' version of these products rather than the free-from range. 
Unless your skin is very reactive or unsuited to these particular ingredients, we would be wary of encouraging you to be scared into 'clean' products just out of fear, and often scaremongering can raise our fears unnecessarily. Unless it has a basis in science or research, we say 'no thanks'.
Why Are We So Into Clean Skincare Now?
However, it's not all smoke and mirrors. Clean skincare can often be very good news, environmentally sound and transparent in what it can offer in terms of cleanliness - but we must be aware that this is not always the case. It's always wise to be on the lookout for lip-service, and seeing just what a product is really delivering. 
As our focus has shifted towards wellness and health in terms of our diets and lifestyles, we've also become a lot more discerning when it comes to choosing products based on their origins, ingredients, and even ethics.
There is a new emphasis on fully vegan products, formulated without animal or insect by-products, which can become blended into 'clean' skincare, but if a product is not vegan, then it is not necessarily less clean than others.
Clean beauty can often be plant-based, coming from sustainable sources, available in recyclable packaging and may often contain certified organic ingredients.
Clean beauty has become increasingly popular over the last few years, as we turn our focus towards sustainability in all aspects of our lives, with beauty as no exception - although we have to bear in mind that clean beauty has no boundaries or parameters when it comes to using the term, so if clean beauty is what you're after, be sure to roll up your sleeves and investigate just what it is that you'll be receiving. 
Codex Beauty certainly have a few credentials up their sleeves, and we're delighted to welcome them as newcomers to the Nerdie Store!
Codex Beauty
One of Codex Beauty's latest offerings is their Irish collection, Bia by Codex Beauty. This collection is fully organic, and is based on a marriage of natural ingredients and science.
It uses plant-based preservatives (a few less 'nasties' for you), and prides itself on scientific innovation. Codex understandably markets itself as 'clean' beauty, but they are backed by a lot of scientific research, so we're fans. 
When it comes to packaging, Codex uses green polyethylene packaging material, which is derived from Brazilian sugarcane agricultural waste. This means that it's coming from a renewable resource, as well as being plant-based and recyclable!
Codex is also aiming to achieve carbon neutrality, a zero contribution of plastic into the ocean, and to support the preservation of the arctic wilderness. That's pretty mean, green and clean in our books, so we're delighted to kick January off by stocking the Bia Collection from Codex Beauty. 
The Bia Collection from Codex Beauty has plenty of products suitable for sensitive skin, and for hydration too!
Codex Beauty Bia Skin Superfood 
A super soothing daily treatment, and ideal for anti-irritation

Contains calendula, which moisturises and softens skin

Also contains Heart's Ease extracts for retaining skin moisture

Full of Irish botanical ingredients for protection, hydration and moisturisation

Can be used on your hands too, if they're in need of a little bit of extra TLC

Totally vegan!
Super hydrating and gentle

A little goes a long way!

Contains rosehip, with vitamins A and C as well as essential fatty acids

Also contains bog myrtle for anti-oxidant protection

Suitable for controlling sebum production though kiwi seed extract

Contains seaweed buckthorn to help with skin elasticity 

Helps to lock moisture in
Ideal for the tired eyes looking to see a way through January in particular. 

Instantly hydrating and soothing

Contains arnica and aloe vera to help to reduce puffiness and under-eye circles

Also contains cucumber to plump and calm skin! 
We're not usually eye cream endorsers, but this one is such a big hit that we just had to include it. 
We're definitely feeling that the trend towards 'clean' beauty, be that sustainable, plant-based, ingredient focussed or all elements combined will be a big beauty focus in 2020, but we're going to wait and see how the year goes before we rave about it as a trend.
It's important to bear in mind that it is a trend, and lacks scientific support, so some of its claims can come across as scaremongering. The most important thing that you can do is to know your ingredients and read up on just what the product can offer you.