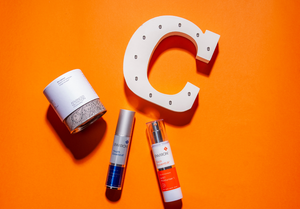 We all know that vitamins are the essential organic compounds that our bodies need to function in a healthy manner. Vitamins are key when it comes to our overall health, and they can also impact our skin, too. When it comes to vitamins, some of them have a deserved reputation of being particularly effective or particularly vital. If vitamins could be celebrities, we think that vitamin C would be verified, with countless followers, their own clothing range, and star on the Hollywood Walk of Fame.   
Vitamin C is probably one of the best known vitamins, as it's so important for overall bodily health, so it's definitely made it to the vitamin mainstream.  
Vitamin C is also known as ascorbic acid, but there are many different forms, such as ascorbyl palmitate, sodium ascorbate, sodium ascorbyl phosphate, magnesium ascorbyl phosphate, and many more besides!  
Vit C in all of its forms is essential for protecting cells and keeping them healthy, as well as looking after your connective tissues. We don't store it in our bodies which is why we need to take it in through our diet - and for the good of our skin, to apply it topically, too.  
Vitamin C As An Antioxidant
When it comes to skincare, vitamin C is a potent antioxidant. Antioxidants have got our backs - we're basically always in the midst of a chemical reaction. As our bodies turn food into energy, free radicals are released. Free radicals are unpaired 'bachelor cells' as we of Team Nerd like to call them. 
Left to their own devices, free radicals go on a spree through your body, and can cause damage to your cells. We take in antioxidants through food (or we can also apply them topically to our skin through products).  
Antioxidants pair with these free radicals and neutralise them, so they can't get up to any more mischief. 
Vitamin C is a superstar of the skincare world as it can show a marked impact on skin concerns such as redness, inflammation, skin tone, dullness, texture - even pigmentation as a result of acne or sun damage! Vitamin C could have you c-ing yourself in a whole new light! 
Vitamin C and Skincare Concerns
Premature Ageing 
Vitamin C is necessary for the production of collagen, so it's important to apply it topically to your skin. It can be really helpful if you're attempting to tackle premature ageing in the skin as well as give your skin an antioxidant boost.  
REN V-Cense Revitalising Night Cream is a moisturising night cream which contains vitamin C as well as boswellic acid to lift and tighten the skin, and pro-vitamin A, another potent antioxidant.  
These night cream is particularly effective for skin which might have begun to display signs of ageing in fine lines or wrinkles. It's best applied as the final step in your night-time routine for overnight hydration. It can help to give skin rejuvenated appearance, as well as prompting collagen and elastic production. Apply some (vitamin) C's before you get your Z's. 
Vitamin C for Redness
Vitamin C is one of the most important ingredients that you can include in your skincare routine. It can help to ease the symptoms of a number of inflammatory skin conditions, which can lead to redness if left unchecked. Vitamin C is also well tolerated by all hoomans and all skin types, and is even suitable for sufferers of rosacea. In fact, it's very beneficial for hoomans with rosacea! 
Vitamin C can be super helpful for helping rosacea sufferers out. Vitamin C can help to support weakened blood vessels. In hoomans with rosacea, their blood vessels can dilate too easily, which leads to the redness in the face which marks rosacea. Vitamin C can help counteract this inflammation.  
When it comes to vitamin C and rosacea, we get a lot of questions about IMAGE Vital C. This range is formulated on the backbone of vitamin C. Vital C was created by the founder of IMAGE, Janna Ronert, in order to help to tackle her own rosacea. We had the opportunity to chat to Janna during one of our recent At Home Skin School Lives - you can view it here!
It was the first line created by IMAGE Skincare, but thankfully, they branched out in the years following to create a whole range of skincare products for different skincare concerns! 
The Vital C range promises to deliver vitamin C into the cellular level of skin, and by doing so to help heal skin and reduce inflammation. It also hydrates and exfoliates skin which might be marked by bumps. Depending on the product, it can help to protect skin from environmental and UV damage, too.  
Magnesium ascorbyl phosphate, which is one of the main forms of vitamin C in skincare,can have a hydrating effect on the skin. It can help to prevent transepidermal water loss, which means that more hydration remains in your skin, instead of being let out by a wonky skin barrier.  
Our Vital C picks would have to be: 
IMAGE Vital C Hydrating Enzyme Masque 
This masque brings in hydration and exfoliation to treat skin, and, like the rest of the Vital C range, is suitable for use by hoomans with rosacea.   
This masque uses gentle exfoliation to free your skin of dead skin cells. Enzymatic exfoliation is one of the gentlest forms of exfoliation, as enzymes gobble up the dead skin cells on the surface of the skin - handy! This masque also contains vitamins A, C, and E to promote skin health and for antioxidant power. It also contains hyaluronic acid to plump and hydrate skin.  
IMAGE Vital C Hydrating Antioxidant A C E Serum 
Perfect for application twice daily after cleansing, morning and evening. This serum contains a pack of antioxidants, and peptides, too. It can help to protect your skin against the visible signs of ageing such as fine lines, dryness and collagen loss. It's also effective at tackling redness, which is good news for anyone who's looking to bring down the heat in their cheeks.  
It contains severals forms of vitamin C, including tetrahexyldecyl ascorbate and sodium ascorbyl phosphate. These help to even skin tone, and reduce the appearance of hyper-pigmentation and dullness. Especially suitable for skin which is dry, red, or environmentally damaged. 
It comes in a brown bottle, to help protect the serum against the effects of light, which can have a negative effect on the efficacy of the serum. Close it tightly after use, and keep it out of direct sunlight.  
Pigmentation
Vitamin C-rich products can make an impact on pigmentation. This is a process by which areas of the skin might have become discoloured, often to brown, in patches on the skin. This is usually a result of sun exposure.  
Nerdie bit: Vitamin C inhibits tyrosinase and reduces melanin, which means it can interrupt the formation of new pigmentation and help to reduce the appearance of pre-existing pigmentation.  
In the case of acne sufferers, after acne breakouts, you might have what is called post-inflammatory hyper-pigmentation. These can occur in the form of dark reddish marks on the previously acned zones.  
They can also be the result of popping spots or picking at them. Vitamin C can be helpful when it comes to reducing the vividness of this pigmentation, and helping scars or marks to fade. 
Murad Rapid Age Spot Correcting Serum 
This serum helps to reduce the appearance of dark spots, age spots and hyper-pigmentation with a hydroquinone alternative. You could begin to see the results in as little as a week. Vitamin C, oligopeptides and light-reflecting pearls help to brighten skin tone instantly, and also over a longer period of time.  
If you'd like to include more vitamin C in your routine, but these options don't suit you at the moment, then you can also take in vitamin C for your skin through supplements. The Advanced Nutrition Programme Skin Vit C supplements can contribute to collagen formation, support the normal function of your skin, and give you an antioxidant boost, too. 
Vitamin C is one of the most important ingredients that you can include in your skincare, and depending on your skin concern, it can be a truly useful and effective ingredient for tackling a wide range of concerns, for a variety of different hoomans.  
If you have any questions about whether or not vitamin C would be of benefit to you and your skincare routine, you can get in touch with your Nerd or Nerdette at consult@theskinnerd.com!