What Mask Is Right For You?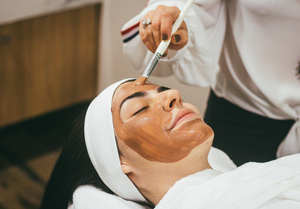 Want to know what mask is your Cinderella slipper, and your happily-ever-after? We have to admit that the nerdie preference is mixing and matching, with the advice of our Nerds and Nerdettes, but we have a handy little guide if you'd like a quick pick for yourself or a nerdie pal!  
Take our quiz below and tell us what you think! 
What are you looking for from a skincare routine?

 
A: Serious, serious results, pretty much pronto. I want my skin to appear more youthful and rejuvenated overnight. I've got high expectations! 
B: Something simple, without too much fuss, to keep my skin under control. 
C: I'm looking for a routine that helps to control my skin and I'm willing in invest in a routine that actively tackles my skincare concerns. 
D: I'm looking for a super soothing and gentle routine.  
E: I'm looking for an easy and effective skincare routine as I get to know my skin a little better. 
What sort of skin do you feel you have?

 
A: More mature skin, which might be prone to dryness.  
B: Skin which tends towards dryness or dehydration.  
C: Very oily skin, with active breakouts. 
D: Reactive, sensitive skin.  
E: Breakout prone skin. 
How often would you like to use your mask?

 
A: A few times a week if possible, even overnight! 
B: Every now and then – occasional use! 
C: Every week, or three days. 
D: About three times a week or more occasionally during skin emergencies. 
E: A few times a week, but not religiously! 
What results are you looking for from your mask?

 
A: Skin which appears seriously rejuvenated, firmer, and generally had a bit of pizazz. 
B: I want skin to be visibly more hydrated. 
C: I'd like a reduction in oil and breakouts over time. 
D: I want skin to feel comfortable and soothed and look its best.  
E: I want skin to feel fizzy with anticipation and also to see a reduction in blackheads.  
Do you value convenience or luxury in your masks?

 
A: Luxury all of the blimmin' way.  
B: Convenience – I'm under time pressure. 
C: I can tend to luxury – but I need results.  
D: I have a little time towards masks and self-care, but it's about what works for me. 
E: Convenience and cost! 
Although we suggest speaking to your Nerd or Nerdette before making any changes to your skincare routine, here's a handy rule of thumb – and some ideas for bringing forward to your Nerd or Nerdette during your next follow-up! 
Mostly As: Environ Tri Bio-Botanical Revival Masque 
You might enjoy trying out the Environ Tri Bio-Botanical Revival Masque. Environ calls this masque their 'Face Lift in a Jar', and although we don't make any promises, we've found that plenty of our clients have found striking results after incorporating it into their routine. This masque is formulated with alpha hydroxy acids, and can help skin to feel hydrated and improve the apprearance of uneven skin tone.  
It's recommended for use several times a week, but you can work it up to use overnight in time! 
Bs: Seoulista Super Hydration Instant Facial Sheet Mask 
This super-hydrating sheet mask is perfect for busy hoomans seeking a shot of hydration. Seoulista Super Hydration Instant Facial is a hyaluronic acid infused sheet mask. It also contains antioxidant-rich coconut. It's perfect for applying to skin post-cleanse when the mood strikes you. 
The sheet itself is bio-cellulose, which is made through the hygienic fermentation of natural ingredients such as bamboo or coconut, making it highly absorbent, adhering well to the skin, and biodegradable. 
Cs: Environ Focus Care Clarity+ Sebu-Clear Masque 
The Environ Focus Care Clarity+ Hydroxy Acid Sebu-Clear Masque is a creamy, low pH creamy mask that assists in clearing the appearance of existing breakouts with a combination of exfoliating acids, leaving the skin looking visibly healthier and smoother. It's perfect for hoomans who are very oily, very breakout-prone, and needing some skin-love.  
It contains lactic acid to helps the skin's own exfoliation process by allowing dead skin cells to slough off easier, whilst assisting in hydration due to its humectant properties. It also contains salicylic acid which penetrates pores and hair follicles to dissolve debris within them, reducing blockages and acne flare-ups. 
 Use every 3 days or as advised by your Nerd or Nerdette! 
Ds: REN Evercalm Ultra Comforting Rescue Mask 
REN Evercalm Ultra Comforting Rescue Mask is a moisturising mask for sensitised skin, designed to instantly alleviate redness and irritation. This calming mask uses an innovative bio-actives complex to strengthen skin's barrier as it moisturises, de-stresses, and comforts the skin, boosting its overall health. 
You can use this three times a week or when your skin needs a rescue! 
Es: Dermalogica Clear Start Blackhead Clearing Fizz Mask 
This is a fun mask with an unusual texture. Apply it to cleansed skin to feel the fizz. The technology activates upon application, helping to open pores, decongest skin and facilitate blackhead clearing. It contains sulfur to help keep skin clear, and kaolin clay for absorbing excess oil.  
It's best suited to teenage hoomans, pregnant hoomans in need of some blackhead busting, those with skin that is sensitive and congested, and those who want a bit of fun in their routine. It's a great option for hoomans starting their skincare journey.