Which Exfoliating Acid Is Right For You?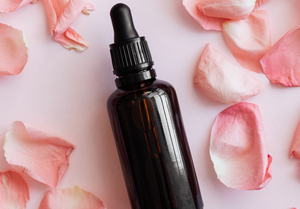 If you're a nerdie devotee, then you'll know all about our preferences when it comes to exfoliation. There's nothing quite so satisfying as a good exfoliation, but the fact is that when it comes down to it, we have a few nerdie suggestions for the best way to exfoliate your skin.  
Let us guess: in teenage years (or maybe beyond – look, we're not going to judge you too harshly), you might have been a devotee of some gorgeously scented, lushly beaded scrub-a-dub products. Maybe they were directed for spot-prone skin, maybe they were just part of your normal skincare routine, and maybe they were a once-in-a-blue-moon treat for the skin. The fact is that skincare evolves over time (just like us!) what we adored when we were teens is probably not going to be the best choice for us these days.  
The reason that we don't advocate for mechanical scrubs (read: grain-based scrubs) is because they can easily over-exfoliate skin. This process can lead to skin becoming red, shiny, and even a little bit rash-prone.  
Chemical exfoliants (like acids) do this by dissolving the bonds between cells while physical exfoliants (like scrubs, washcloths, and brushes) use friction to physically scrape them off. Even retinoids like adapalene and tretinoin can aid in the process by speeding up the cell turnover process rather than washing dead cells away from the outside. 
Our favourite nerdie analogy is to compare exfoliation to chipping away at the roof of a house. A mechanical exfoliant scrubs at the top layer of the tiles to chip away at them physically, but a chemical exfoliant drips between the tiles to help to dissolve the bonds between the tiles and loosen them so they come away super easily.  
If you're curious about exfoliating acids and want the best choice for your skin, then we definitely suggest that you get in touch with your Nerd or Nerdette for their keen observations and opinions. In the meantime, here are a few of our favourite exfoliating acids, and some broad-strokes recommendations! 
Gluconolactone 
This particular exfoliating acid is so gently that some hoomans might leave it off the list entirely, but the fact is that PHAS or polyhydroxy acids are gentle, yet effective exfoliators which deserve a little more airtime.  
Gluconolactone is an effective exfoliant which is effective without causing redness or sensitivity.  
You can find gluconolactone in Skingredients PreProbiotic Cleanse. This is a hydrating daily cleanser which is suitable for all hoomans, all skin. It's so gently exfoliating that we still think you can use it as often as you like. Particularly excellent as a choice for hoomans are acid-shy. 
Best for: sensitive skin, all skin! 
Glycolic Acid 
Glycolic acid is a sugar-derived exfoliating acid, but it won't satisfy your sweet tooth. It's one of the most common acids found in skincare. It's an alpha-hydroxy acid which is suitable for almost every skin type, even sensitively skinned hoomans. It has anti-ageing benefits and is good for acne-prone skin, as it helps to loosen the bonds between skin cells.  
The nerdie recommendation would be NeoStrata Foaming Glycolic Wash, although this would not be recommended for super-sensitive skinned hoomans. 
Glycolic acid: spot-prone skin, all skin, mature skin! 
Lactic Acid 
Lactic acid is milder exfoliating acid than even glycolic acid. It's excellent when it comes to dull and uneven complexions. It's good for improving the appearance of pore size, if this is something that you're concerned about. Lactic acid is specifically used to treat hyperpigmentation, and age spots. 
We'd definitely recommend Environ Derma-Lac Body Lotion, for use on any areas on the body that need exfoliation. This product is excellent for dry, rough skin on the body including feet, elbows and knees and can also be used to treat sun damage, congestion and pigmentation on the body and face. 
Best for: full body exfoliation, skin which tends towards sensitivity 
Mandelic Acid 
Mandelic acid is derived from almonds and is an alpha hydroxy acid which can help with spot-prone hoomans skin. It's effective when it comes to anti-ageing, as mandelic acid helps to speed up cell turnover, and minimize the appearance of fine lines.  
If you're seeking a product with a host of exfoliating acids including mandelic acid, Environ Tri Bio-Botanical Revival Masque could be right for you. Environ call it their 'face-lift in a jar', and we will admit that it certainly can have an amazing impact on skin needing an immediate boost. 
Best for: mature skin, spot-prone skin 
Salicylic Acid 
Salicylic acid is one of the true nerdie loves. It's derived from witch hazel, and is a beta hydroxy acid which is particularly suitable for hoomans who have spot or oil-prone skin. It works by penetrating deeply into pores in order to dissolve debris which might otherwise lodge in them and cause breakouts.  
Our favourite for salicylic acid would have to be our own Skingredients Sally Cleanse. This cleanser is suitable for use up to three times a week in the evening, and is formulated with 2% salicylic acid, the highest percentage of salicylic acid available in a cosmetic product over the counter in the Europe.  
Best for: oil and spot-prone skin 
These exfoliating acids are some of our nerdie favourites but there are a host of exfoliating acids out there, and we don't pretend to know which one would suit you without speaking to you. Choosing the right exfoliating acid can make a huge impact when it comes to your skincare routine, so if you don't feel like yours is working for you, then do get in touch with your Nerd or Nerdette who will be more than happy to discuss options with you.