Which IMAGE Serum Is Best For You?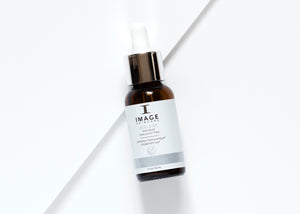 Who would have thought that a gang of Floridian's could make skincare that could work for temperamental Irish skin? IMAGE Skincare began when the brand founder, Janna Ronert, wanted to find a solution to her own rosacea after trying everything. 
She created the Vital C range with the help of a chemist, and when showcasing the line at a trade show, she met Dr. Marc Ronert, her future husband and business partner. From then, Janna and Marc set about innovating cosmeceutical skincare and their impact was felt the world over. 
Now, 16 years on, IMAGE Skincare still shakes things up and their products, especially their serums, are ones we could not live without in the world of the Nerd. 
With such a selection, it's difficult to know what to introduce to your routine if you're looking for a boost, so we've put together a little guide to honour these phenomenal products… 
Dull, lacklustre skin, prone to pigmentation or congestion  
IMAGE Iluma Intense Brightening Serum (€49.05 until Sunday, 17th of August)
With brightening botanicals like liquorice root extract, mulberry extract and bearberry extract, as well as vitamin C and anti-inflammatory ingredients, the IMAGE Iluma Serum is oil-free, super lightweight and smells like candy floss. Smells don't change cells but if you like sweets, you'll like how Iluma smells. 
Iluma is a wonder because it both gives you an instant glow and protects your skin from developing pigmentation over time too. 
Suitable for all skin, including skin prone to sensitivity and redness, but a particular favourite of ours for spot-prone skin. 
Dehydrated skin or skin in need of plumping 
IMAGE Ageless Total Pure Hyaluronic Filler (€58.00 until Sunday, 17th of August)
Why would you pay extra for a hyaluronic serum when you can get them for much cheaper? This is one of the best hyaluronic serums we've ever used. 
With high molecular weight and low molecular weight hyaluronic acid, crosslinked hyaluronic acid, hydrolyzed hyaluronic acid and time-released hyaluronic acid, the effects last on your skin longer and it hydrates and plumps your skin at deep levels and at the very surface. 
There's not really anyone that this wouldn't benefit - genuinely. 
Dry, ageing, pigment-prone skin that needs heaps of antioxidants and hydration
IMAGE Vital C Hydrating Antioxidant A C E Serum (€53.60 until the 31st of August)
Janna Ronert herself has described this as a "multivitamin cocktail booster" for the skin. Inside, there's vitamin A in the form of retinyl palmitate, 3 forms of super stable vitamin C for brightening and antioxidant benefits, vitamin E and tonnes of antioxidant polyphenols. 
There's also healing centella asiatica (gotu kola, tiger grass, or cica) plus green tea extract to help in repairing the skin. 
It's your protecting, anti-ageing, soothing hydrator. We adore this for skin that really needs tonnes of hydration but it's also a perfect all-rounder protective serum for all but those who suffer from congestion, as many find vitamin C a bit congesting. 
Sensitive or easily reddened skin in need of hydration and antioxidants  
IMAGE Ormedic Balancing Antioxidant Serum (€56.80 until the 31st of August)
The Ormedic serum is like soft, smooth, calming silk for your skin, with the hydrating properties of lactic acid and an infusion of organic Japanese green tea extract, polyphenols and a copper-complex peptide.  
The results is deep hydration, reduced redness and irritation, an intense glow and antioxidant protection on the daily. 
Dehydrated or "normal" skin prone to redness that needs antioxidants and hydration
IMAGE Vital C Hydrating Anti-Aging Serum (€60.80 until Sunday, 17th of August)
A big question we get is the difference between the aforementioned Vital C A C E Serum and this serum. The Vital C Hydrating Anti-Aging contains similar ingredients in higher quantities for intense anti-ageing effects but a bit less hydration than its counterpart. 
Have you ever thought of your skin as "stressed"? This is its mindfulness, packed with the right stuff to undo the harm of environmental damage. 
Thickened, light-damaged skin with lines and wrinkles 
IMAGE Ageless Total Anti-Aging Serum (€64.00 until Sunday, 17th of August)
One of these serums is not like the others… And that's the IMAGE Ageless Total Anti-Aging Serum. Not for the faint of heart (or sensitive of skin), this serum contains a 10% blend of glycolic, lactic and malic acids for increased skin cell turnover, vitamin C and resveratrol for potent antioxidant protection and the patented peptide Matrixyl Synthe to boost your production of collagen and smooth the appearance of lines and wrinkles. 
Incredible alongside other pigment-tackling products but not recommended for those prone to  spots, as we find glycolic acid brings them up without getting rid of them. This is one of those serums that you're best of talking to your Nerd or Nerdette about! 
Congestion-prone, very oily skin, skin in need of healing and congested pregnant hoomans 
IMAGE Skincare Clear Cell Restoring Serum (€40.80 until Sunday, 17th of August)
Many who are truly excessively oily struggle to find a serum that has benefits and helps to mattify their skin at the same time. The Clear Cell Serum is the one for you hoomans. With super-soothing aloe extract and vitamin B6 derivative, plus antioxidant green tea extract, this serum hydrates, calms down and protects all in one. 
It temporarily visibly reduces the size of pores, if you find that your pores can look mahoosive even though you're doing all you can with your routine. 
Disclaimer: we never recommend anyone to use just one brand, although we may coincidentally do it from time to time. Nonetheless, we wanted to celebrate IMAGE Skincare because it's a brand close to our hearts with incredible serums and results to beat the band.