Beauty from the inside out : Why you should try a skin supplement this winter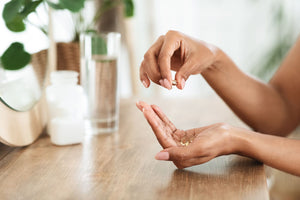 Preparing your skin to battle the winter elements can be tricky. Unless you plan on hibernating the whole of winter (which is a little less enticing after a lengthy lockdown) then you'll be facing harsh weather conditions and chilly temperatures most of the time you leave the house. What you can do though is equip your skin with everything it needs to face the Elements.
The skin acts as a barrier between the body and the environment, but during the colder months, your skin could often do with a little extra help to protect it from the elements. A skin supplement can help you to take a proactive approach to your skin health and wellbeing by allowing you to top-up your vitamin and mineral intake easily. Aligning with our 360-approach to skin health, we believe that what goes into the body affects how you look and feel on the outside. While there are no alternatives for a healthy, balanced diet, skin supplements work can boost your nutritional intake and can be easily managed for those with a busy lifestyle. They are also great for people who avoid certain food groups and therefore find it harder to reach the optimal intake for a particular nutrient.  
Skin issues that are particularly prevalent in the winter include irritation, redness, dullness, roughness and visible lines and thankfully, there are skin supplements that are available to help tackle all of these from the inside:  
Skin issue: Dehydration
Sore, weather-beaten skin can compromise the skin barrier and leave the skin more susceptible to dehydration. As a source of good fats, omegas are skin heroes when it comes to keeping the skin healthy. Research also suggests that Omega 3 and Omega 6 may support skin barrier function, which is crucial for preventing water loss and for stopping compounds from the environment penetrating the deeper epidermal and dermal layers and provoking an immune response. Providing a whole spectrum of omega fatty acids, Solgar Wild Alaskan Full Spectrum Omega Softgels help increase your intake of good fats for healthier skin, inside and out.
Try: Solgar Wild Alaskan Full Spectrum Omega Softgels, €38.99


Skin issue: Redness
Redness can be a sign of dehydration and is common at this time of the year due to the cold weather stripping away the skin's natural moisture. If you already suffer from redness or rosacea, you may find that winter worsens your condition. Facing widely varying temperatures throughout the day as you move from a centrally heated room to the blistering cold outside can also impair your skin's barrier and leave you red-faced.

At these times, a vitamin D supplement can help to calm any irritation. Your body makes its own vitamin D when exposed to sunshine - which is in limited supply in winter, which rations our daylight hours. Taking a vitamin D supplement is a handy way to top up your stores during the colder, darker months and is also beneficial for anyone who spends a lot of time indoors.

Try: Solgar Vitamin D3 (Chloecalciferol) 4000 IU Vegetable Capsules, €19.25


Skin issue: Visible lines
Wrinkles and fine lines can look worse in the winter due to dehydration. Whilst there are many skincare products claiming to help to treat fine lines, topical skin care cannot reach the dermis and so a supplement can help nutrients to reach the living layer of the skin. To keep skin looking healthy and hydrated, try a supplement containing hyaluronic acid which is a humectant and helps to lock in moisture. Solgar Collagen Hyaluronic Acid Complex also contains collagen to keep skin plump.

Try: Solgar Collagen Hyaluronic Acid Complex, €41.50


Skin issue: Dullness
With your body working overtime to take care of its vital organs during winter, your skin can look flat and grey due to stagnated blood supplies, which can also make dark circles look worse. To tackle this, try upping your intake of vitamin C with Solgar Ester-C Plus 1000mg Vitamin C. Taken as a supplement, vitamin C can help to reduce inflammation and even out skin tone, plus it has super-brightening abilities to help you to get your glow back.

Try: Solgar Ester-C Plus 1000mg Vitamin C, €34.20 (sale price)


*Always check with your GP before taking nutritional supplements.