Bridal Beauty Prep - Hair, Makeup, Skin Treatments and Workouts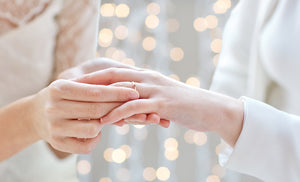 For many hoomans, their wedding day is considered to be the most important day of their life, and looking good means feeling good, so nailing your bridal beauty prep is actually integral. Before you raise a finger to your screen, no, it's not vanity. If you feel comfortable fully makeup-free with air-dried hair, go you - but not everyone does, and of all days, this is a day you should feel as comfortable and confident as possible.

Although I'm associated with only skin, the experts I know are a versatile bunch of hair, makeup, massage, workout and treatment experts. I will note that I am incredibly blessed - imagine getting some of the top beauty advice on the country through WhatsApp when you need it.

In this post, I'm going to share the bridal beauty prep knowledge from these incredibly experienced people so that you can be on track for your big day (or someone close to you's big day), covering at-home pre-wedding hair care, your workout plan, which skin treatments to opt for in salon and how to make sure that your wedding makeup is locked down in advance.

Ps. When I say bridal, I don't mean just brides, I mean anyone getting married. Love who you love, hoomans.
Bridal Beauty Prep: Hair with Katrina Kelly of Cut Social
Although your hair on the day is in the hands (quite literally) of your stylist, you'd be remiss to think you'd get away with not looking after it in the lead-up to the wedding.

Healthy hair is easier to style and will always look better than unhealthy hair, so I asked my best friend, Katrina Kelly, owner and founder of award-winning Cut Social hair salon in Phibsborough, how to keep hair in good nick before you walk down the aisle:

Like skin, there are no quick tricks to keeping your hair healthy. What would be your 3 main pieces of advice for someone who isn't looking after their hair health but wants to start?

"My three pieces of advice would be to book in for a hair consult, a cut and a prescribed hair treatment. You need the hair consult for the future planning of your hair journey and we also do a skin test, strand test and a hair history test, so you know what you need to about your own hair."

"Everyone's ends need a cut, even the healthiest of hair, and your recommended treatment will help to work towards your plans for your hair."


What do you think is the biggest mistake people make when it comes to their hair prior to their wedding?
"When choosing a colour, many don't work towards a hair colour that suits their skin tone and won't date. Getting their healthy is often neglected too. Texture can be created by a spritz… Hair health can't."

If someone has very damaged hair, what type of home hair care should they start to use now? Do you have any holy grail products you'd recommend?

"People with damaged hair need something reconstructing like Joico K-PAK Shampoo (€15.95), Joico K-PAK Reconstructor (step 2) and Joico K-PAK Intense Hydrator Treatment (step 3) - a winning trio!"

"The main hair health product is protection, so the Joico Defy Damage Protect Shield (€24.95) both at night and in the morning is essential. It's a shield for the hair cuticle so if it's used daily, it helps to prevent damage from occurring in the first place."

Bridal Beauty Prep: Workout with Rebekah Penco of Evolution Fitness
Going from zero to hero in no time flat (thanks, Hercules) is no mean feat, and motivating yourself to get fit can come with the cost of giving up or going too hard at it. Rebekah Penco, former world champion weightlifter, international soccer player for the Republic of Ireland, personal trainer, gym owner and fitness lecturer, knows all about how to get results without damaging yourself.

What type of exercise will make the biggest impact in a short amount of time?
"When it comes to the type of exercise that makes the biggest impact in the shortest amount of time, I usually tend to go for some form of resistance or weight-based exercises. A personal favourite of mine is HIIT (high intensity interval training)."

"The reason for this is that if you do 20 minutes of HIIT or interval training, you are really elevating your heart rate. It may not burn as many calories as going on a crosstrainer for an hour, but a lot of clients are stuck for time so it's not a case of how many calories you can burn in the session, but how many you can burn in the 24 - 48 hours thereafter."

"Weight training and HIIT training stimulate something called EPOC, which is excessive post exercise oxygen consumption. This has been shown to have a positive impact in increasing the basal metabolic rate for up to 48 hours. This is why I tend to prefer HIIT or resistance training."

Do you believe that you need to combine cardio with weightlifting for best results?
"I absolutely believe you must intelligently combine resistance (weights) with cardiovascular based exercises. Too often, I find that people pick themes, for example, females will choose cardio only as they fear becoming too muscular from weight-training, which is a misconception."

"It's important to not pick themes but to find the balance in the middle. If you want to weight-train to get in shape for your wedding, that's great. But you need to make sure not to neglect your cardiovascular fitness. The best approach is to combine them, and that combination depends on your personal goals."

Can you eat the same way, or do you have to optimise your eating? What tips would you have for that?
"Optimising your eating is very important. We always encourage our clients to have some variety in their food choices. You should vary your protein sources, fat sources, carb sources and vegetable sources and make sure your diet is colourful."

"It's so important to take the time to prepare meals. This will give you 100% control of the food that goes into your body."

"If you fail to prepare, you prepare to fail. If we don't have our food prepped then our food choices are dictated by hunger and availability, which is not a good thing if we want long-term success."

When should you start working on your fitness to prep for your big day?
"The sooner you start your pre-wedding fitness journey, the better. Allow yourself sufficient time to prepare yourself and your body."

Bridal Beauty Prep: Skin Treatments with Sharon Brady of The Skin Consultant Dublin
Our Bridal Bootcamp is all online and though we feel that you can get fantastic skin results from your home, heading into a salon or clinic can up the ante and boost your home skincare regime.

Sharon Brady of The Skin Consultant Dublin has years of experience in the skindustry, and is qualified in a broad array of treatments including peels, IPL, medical microneedling and Syneron-Candela eTwo system for Complete Facial Rejuvenation with Sublative and Sublime Radio Frequency Skin Tightening treatments.
Having worked with hundreds, if not thousands, of brides, grooms and bridesmaids over the years, Sharon knows exactly what to do to get skin turning over, to get lines and wrinkles to bow to her and to generally help the skin to look better faster. 

When should people start having treatments done in preparation for the big day?
"Ideally, we are looking at one year out minimum to get a proper plan in place through a skin consultation. Your needs are individual and there's no one plan that fits all. In terms of bridal party, sometimes I have seen them within six months of the big day."

"Each skin concern is different but the goal is always the same: glow, radiance and healthy skin."


What treatments do you find are beneficial for most people?
"I always start with a gentle peel moving on to IPL, as this is a favourite treatment in my clinic for male and female redness, skin tone and recharging healthy skin cells."

"I may also combine a skin plan with advanced peels which have little or no downtime these days, or with one of my favourites of medical microneedling or Genosys mesotherapy. These treatments are amazing for pores, scarring and total skin health."

When should you stop having treatments prior to the wedding?
"Once your goal has been reached, it becomes about maintaining the result. I have done hydrating and radiance treatments right up to the eve of the wedding. The most important rule I have is, no matter the budget, get the very best out of your plan."

"A serious consultation involves taking a look at what you use topically at home on a daily basis."

What would you say the ratio between home skincare and in-salon or in-clinic treatments should be for brides-to-be?

"70% of the work is made up of your core products and the regime you do daily. Many factors are considered, including diet, stress and lifestyle."

"The core products for me are a gentle cleanser, an antioxidant serum and an SPF moisturiser to protect your skin during the day. The night is all about repair, with a vitamin A or retinol serum and, if needed, a peptide-based cream, with a treatment cleanser or exfoliant on alternating nights."

"Masks, eye creams and all the rest are additions to a core routine. Invest in a good routine and your skin will thank you later!"

"Professional treatments are tailored to the individual and so long as a good routine is in place, great results can be achieved. In my eyes, a skin journey is an education that allows you to look after your skin health at home and find the perfect treatment or machine for your concerns, and leaving a clinic satisfied that your money was well spent!"


Bridal Beauty Prep: Makeup with Michelle Regazzoli-Stone (MRS Makeup)
Your wedding makeup is the cherry on top of the cake when it comes to your bridal beauty prep, and it's something you want to go smoothly. Michelle Regazzoli Stone, MRS Makeup, is a multi-award winning celebrity makeup artist who does more wedding makeup than you could throw confetti at.

What is the importance of having a trial with your chosen makeup artist?
"I feel it's important to have a trial so you both get to meet and have a good chat to get an idea of the desired makeup look. It's also important for me to see their skin and discuss their current skincare routine, just in case I need to give my professional opinion on what to add before the big day. It's also important so that I can recommend products for touch-ups later on throughout the big day."
When should you be having your trial?
"I recommend a trial 3-6 months in advance. The more time, the better, as I get to check the texture of the skin and maybe advise them to add moisturise or to invest in facials or supplements."

People often forget about their touch-up products! How many products will the bride (or bridesmaid, mother-of-the-bride, or best mate) need to ensure their makeup stays looking great for all eventualities?
"Generally, all I recommend is powder, lipstick and lipliner for touching up. I'm pretty confident everything else will last. A couple of tears are normal and of course welcome, if they are patted away instead of rubbed, there'll be no smudging."

What is the biggest mistake people make when it comes to their bridal makeup?
"A big mistake a bride can make is trying to look like someone else, for example, screenshotting images from Instagram or Pinterest and asking the makeup artist to recreate the look to a T."

"You're better off having pictures of yourself when you felt you looked good, and working with the theme of the wedding, so that the dress, the hair and even the flowers can contribute to the makeup look. I feel you should look like a more beautiful version of yourself."

Any top tips for getting your skin in the best state it can be for makeup application?
"My top tip is to try to get some decent sleep, drink more water, get your vitamins into you and hydrate the skin… I'll do the rest!"


Although I've never been a bride myself, I know that it can be a super confusing time - and the Nerd Networkers told us so too. That's why we created our Bridal Bootcamp, an all-online total skin health programme to get you wedding-ready, with skin advice, meal plans, exclusive blog posts about wedding planning, honeymoons and bridal makeup, and deals and discounts with our partners.

Find out more here.