Choosing The Right Everyday SPF For Your Skin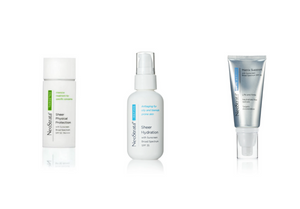 UPDATED: 15/5/20
It can be difficult to choose the right everyday SPF for your skin. You know that you need to be wearing SPF all the time by now if you've been reading for a while.
Quick recap: you need to be wearing broad spectrum SPF on your face, neck and décolletage everyday. Broad spectrum is that which protects from both UVA and UVB rays.
UVA rays are the ones that cause wrinkles, lines, age spots - U-V-A-for-Ageing - but are also associated with skin cancer. 
Seeing as us Irish are a pale lot and thus are more susceptible to light-related skin damage, we truly need to be wearing SPF everyday - full stop. 
Unprotected sun exposure can cause things like solar elastosis which is what it is called when your elastin collects in an irregular way due to light-related damage and creates stiff-looking ridges on the skin, making it look thick and leathery. It is also the cause of age spots, sun spots, liver spots… They are all the same thing, known as solar lentigo.
My usual guidelines for SPF are that it should be…
Protective of both UVA and UVB rays - if it doesn't say broad spectrum or full spectrum, check the star rating on the bottle. This star rating is showing the ratio of UVA protection in relation to UVB protection. If your sun protection is SPF 30 or over and it has a star rating of 4 or 5, it is near perfect. Another way to see if a sunscreen or sunblock has UVA protection is to look for "UVA"" with a circle around it. Who knows why it needs to be this confusing on the packaging?!
At least SPF 30. This is the best way to ensure you are protected, in my opinion. Environ actually advocate for SPF 15 or over. In the end, it is your decision which factor you are using but the more naturally pale you are, the more sensitive you are to light-exposure - us Caspers need to keep that in mind!
Worn daily on exposed areas without fail. All day, everyday; on your birthday, at Christmas, in the Winter, Spring, Summer and Autumn, on Easter Sunday, on World Poetry Day, during Seachtain na Gaeilge. Get it?!
What do I mean by everyday SPF? When I say everyday SPF, I'm talking about a sun protection product that you wear everyday on your face, neck and décolletage. In this sense, an everyday SPF is not just protecting you from future skin cancer but also the advanced light-related ageing that was mentioned slightly earlier.
When it comes to SPFs for the Summer and for the whole body, the ones you should be wearing from March through to September according to the Irish Skin Foundation, you may need something different.
Physical Vs. Chemical SPF
There are two different types of sun protection: physical and chemical. Physical SPFs are so named as the active mineral ingredients in them physically reflect UVA and UVB rays away from the skin. The most common mineral ingredients found in physical SPFs are titanium dioxide and zinc oxide.
Chemical SPFs have ingredients like avobenzone and oxybenzone, for example, which work to swap UV rays into heat that is then released from the skin. Rather than putting a superhero costume on you to protect from the sun, as physical sunblocks do, they turn your skin into the superhero costume, if you catch what I'm saying.
Each type has their own perks and pitfalls. Mineral-based sunscreens have for years been synonymous with the typical thick-white-smear look but technological advances mean that the particles can now be micronised (ie. the particles can be made much smaller) which makes them appear more appealing! Some believe that chemical sunscreens can cause breakouts but other believe that physical sunscreens can cause breakouts so it is not so cut and dry. Trial and error is key!
Choosing Your Everyday SPF
The everyday SPF you choose should be down to what suits your specific skin best. Many people don't want to wear SPF in case it ruins the finished look of their makeup and I see that point. The wrong SPF can cause a slip-and-slide effect that cannot be fixed by blotting paper - I have done the trial and error myself. The consistency of your SPF is important, contrary to popular belief. You will not want to wear it if you don't like how it feels and there are too many options out there for you to be settling! When you find the SPF for you, it should look seamless under your makeup.
For me, a great SPF is the IMAGE Skincare Prevention+ Daily Matte Moisturiser SPF32. It truly creates a matte, primer-style base for my makeup to sit on and yet protects my skin at the same time.
It would be remiss not to mention Skingredients Skin Shield SPF 50 PA+++ here, too. This is a broad-spectrum mineral SPF which contains niacinamide, is lightly moisturising and antioxidant, too. It's a day cream with SPF, and is lightly peach tinted to avoid the SPF pallor. It prevents photoflasback, is a perfect base for makeup and is a pollution shield, too. 
If you are an oily-skinned hooman, you're looking for phrases like "matte" and "mattifying", but sure you know that. Murad has a great selection of SPFs for those looking for real oil-control ingredients. 
For those who need more hydration, you're looking for a true hydrator, such as a moisturiser with a high SPF. The moisture-bearing sister of MY IMAGE sunblock is the IMAGE Skincare Prevention+ Daily Hydrating Moisturiser. It contains an ingredient called Aqualance, which specifically targets UV-related skin dehydration. Both IMAGE Prevention+ Moisturisers, matte and hydrating, are mineral-based sunscreens and contain antioxidants, green tea and vitamins to give to the skin while protecting it.
Antioxidants are key at protecting the skin from a little something called free radical damage. Free radicals are found in our own skin cells, in the air and in everything really and are strongly linked to pollution, and as such, they are inescapable. Free radicals are missing an electron which makes them roam around like lunatics trying to find one and they latch on to healthy cells to steal their electron.
In this process of electron-thievery, their free-radicalness spreads to the healthy cell to make another free radical. This process can cause something called oxidative stress as the body cannot handle all of these free radicals. It is oxidative stress that causes the skin to age perhaps quicker than it would have otherwise, hence why I believe so strongly in antioxidant protection.
If you are sensitive-skinned, it is a common suggestion that mineral-based sunscreen will be best for you. I'm of the side who believe in chemicals and do not think they are detrimental for your skin - most things that exist are chemicals and plenty of "chemical ingredients" are naturally found in the body. If you have tried chemical sensitive skin formulations and they all irritated your skin, it may be worth it to give a mineral-based sunscreen a go.
Neostrata Sheer Physical Protection SPF 50 is a high-protection, mineral-based sunscreen with a peachy tint so that you are guaranteed no white cast from it. It won't provide any concealment or coverage to the skin but it won't change the colour of your makeup either. All of our NeoStrata SPFs are currently 20% off, and you can view them through the link here!
Your facial SPF is basically your main Autumn/Winter sun protection as you can apply it on any exposed areas, which would usually be just your face, neck, décolletage and the back of your hands.
How Much SPF To Apply And How
The Irish Cancer Society recommends at least half a teaspoon for the face alone and a full teaspoon for the face and neck which is not so much at all to those wondering about how it will feel. You should apply your SPF after all of your serums and before your makeup (if you are a makeup wearer).
I usually do not have time in the morning to wait for everything to absorb but for best effects, allow some time after applying your serums to apply your SPF and some more time between SPF and makeup. Use the interims to put on your clothes or brush your teeth so that you're not just standing around waiting for your products to absorb… or just use it as peaceful, pre-work-day relaxation time!
Mineral Makeup And Sun Protection
Many mineral makeup formulations include titanium dioxide and/or zinc oxide… do you remember them? They are the minerals that can physically block the sun so you want them around as much as possible.
Jane Iredale's mineral makeup formulations double as sun protection and makeup for the most part.
The Glow Time BB Cream, for example, is SPF 25 (SPF 17 in darker shades). How and ever, as you do not apply as much makeup as you do SPF, I believe it is a way to boost sun protection rather than a way to replace it. Minerals are naturally antioxidant too, so they will battle free radicals at the same time.
The Nerdie Recap
An everyday SPF will simultaneously help to protect you from accelerated skin ageing and skin cancer

There are two types of SPF, being physical and chemical, but there are also products that combine both forms

The best SPF is the one that suits your skin whilst protecting it properly

You need to apply at least a teaspoon to the face and neck and top it up every two hours

SPF should be your last step before applying makeup or your final step if you are not a makeup wearer
When it comes to finding an SPF that will simultaneously help your skin and suit your skin, you do not need to go it alone! Book in for a skin consultation with our Nerd or Nerdettes now to get rid of the guesswork and let us help you solve the jigsaw puzzle that is your skin.