Nerdie Skincare Staples: Products That You Could And Should Be Using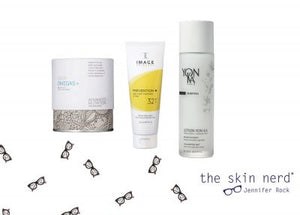 There are hoomans in the world like myself who thrive off intricate skincare routines that are jam-packed with as many results-driven products as possible, who want a separate product for repairing damaged cell DNA, for protecting their skin from pollution throughout the day, for helping to speed their skin's exfoliation process up…
On the other hand, there are people who know that they should be using better products for their skin but want to keep it simple and simply see glowier, plumper, more hydrated, healthier-looking skin! I do not give out to those who fall into category B – so long as you're cleansing properly and wearing SPF, you're doing better than a whole host of people using expensive, unctuous creams (and nothing else) anyway.
Because of these two types of skincare-using hoomans, we have opened up a selection of our favourite nerdie skincare staples to the general public on The Skin Nerd store – WEHOO! So, what's available on this specially curated collection of all-rounders and why should they be part of your skincare routine?
Without further ado…
 
Are you surprised to see essential fatty acid supplements at the top of moi list of skincare staples? Do you come here often?! I jest!
At The Skin Nerd, we feel quite strongly about how nutrition factors into your skin health. Omegas (EFAS) are like an internal moisturiser that ensure that your skin is keeping in all of the hydration that you're getting into it by drinking lots of water. EFAs help to repair cell membrane to allow cells to hold water in. I often use the water balloon analogy, where the water balloon is the cell membrane.
When it's intact, the water stays in the balloon – when it's not, you've sprung a leak! When you start taking omegas, you'll see springier skin, more plumpness, flaking will disappear and if you're oilier, you'll notice that you won't be as oily. These are different to the omegas you'll pick up elsewhere as they are very pure and have incredibly high quality standards of production and packaging.
In 2 Skin Omegas+ capsules, you get 400iu of vitamin A (key for general skin health), 1140mg of pure European fish oil and 594mg of evening primrose oil!
Who will benefit the most:
Everyone will benefit – however, omegas are particular beneficial for dry-skinned & dehydrated hoomans, oily and acne-prone skin and those with eczema or psoriasis
Who should avoid:
Vegetarians & vegans – this supplement contains fish oil!  
Hyaluronic acid is a humectant hydrator, which means that it draws water towards it – hyaluronic acid (sometimes as sodium hyaluronate) can hold up to 1000x its weight in water! Additionally, it's native to the skin and we make less of it as we get older.
Unlike occlusive or emollient hydrators, humectant hydrators don't leave a film across the skin which can in some cases make breakouts and spots an issue for certain skin types. Because of this, a hyaluronic acid serum works for anyone's skincare regime. We're very fond of Pestle & Mortar's Pure Hyaluronic Serum for a number of reasons…
It's Irish
It contains no irritating ingredients so it's perfect for sensitive skins
It features different molecular weights of hyaluronic acid for deep hydration AND surface plumping (more info on hyaluronic acid molecular weights here)
It features soothing, hydrating aloe leaf extract
Texture-wise, it's beautiful, fluid, light and non-sticky
Who will benefit the most:
Those with dehydrated skin, mature skin that has lost its bounce and plumpness, oily-skinned hoomans, acne-prone skins and those of all ages, really!
Who should avoid:
There's actually no need for anyone to avoid a hyaluronic serum – however, those who are genetically dry-skinned or who have lost their skin's oils with age may find that they will need an oil-based moisturiser or serum alongside it!  

Full disclosure: I may have created this product so I may be biased but the Cleanse Off Mitt is the best thing since Betty White. The Cleanse Off Mitt is a microfibre makeup remover created as an alternative to face wipes which are uber damaging to the skin.
It is a pre-cleanser – ie. you use it to remove makeup, oils and debris from your face prior to cleansing so that your face is thoroughly clean and prepped for your other products! The perks of the COM are:
It's suitable for all, men, women, children and babies
Great for all skin types including those with very reactive skin
Just add water
Very compact (for gym, travel etc.)
Reduces use of single-use wipes and (not 100%) cotton pads
Who will benefit the most:
Literally all, even those who do not wear makeup as physical pollutant particles can gather on the surface of your skin throughout the day!
Who should avoid:
Nobody, unless you have a known allergy to polyester.  
Everyone. Needs. Daily. SPF. Even. In. Winter. Essentially, in Winter, antioxidants are especially key but UVA rays (ie. the UV rays that get through windows, through clouds, come rain or shine) are around all year too.
I adore IMAGE Prevention+ Matte as it is truly mattifying, leaves you with a fantastic base for makeup whilst providing your skin with broad-spectrum protection and antioxidant protection. Many non-oily hoomans still love the mattifying version because of its priming abilities and it still does provide a hint of hydration and moisturisation to the skin.
Who will benefit the most:
The oily-skinned and acne-prone benefit the most from this, but it is additionally ideal for all including sensitive skins
Who should avoid:
Those with genetically dry skin should opt for the IMAGE Prevention+ Daily Hydrating Moisturizer SPF 30 instead! Avoid usage on babies under 6 months too.  
Dermalogica Daily Superfoliant (€72.00)

The Daily Superfoliant is one of the most popular, well-known and beloved Dermalogica products out there and not for no good reason. It isn't a core skincare product, it's certainly an add-on product. However, it's a fantastic one.
It is an exfoliating powder that you work into a lather and use it on its own after cleansing. Personally, my preferred mode is to pop some into my usual cleanser to supercharge it. Why is it fab? It helps to protect the skin against pollution due to the inclusion of purifying activated charcoal, whilst exfoliating with AHAs and enzymes.
Who will benefit the most:
City-dwellers, those with dull skin and those looking for anti-ageing skincare.
Who should avoid:
Those with sensitive skin or using medically-prescribed products for their skin.  
Topical vitamin A, specifically retinyl palmitate, restores, repairs, heals and hydrates the skin, whilst additionally protecting it from environmental damage. It also aids in the stimulation of collagen production, helping skin to be plumper and look more youthful. Can you tell that I am in love with vitamin A?! In my opinion, all should be using a vitamin A serum (unless pregnant – however, Environ AVST 1 and 2 have been deemed safe for use during pregnancy).
Who will benefit the most:
Everyone but it's particularly important for those looking for firmer, tighter skin with less pigmentation, those looking for total skin health, anti-ageing purposes, acne and scarring, oil control... If you've tried retinol before, retinyl palmitate is different especially in a step-up system that introduces vitamin A to your skin gradually to reduce chances of irritation!
Who should avoid:
Those using prescribed topical or internal medications that cause the skin's cellular turnover (own exfoliation process) to speed up (ie. RoAccutane, Trenitoin etc.), those who are pregnant if we're talking about AVST 3 or up and those who have an allergy to vitamin A.  
Spritzing is a handy, portable and easy way to boost your skin's hydration levels throughout the day, wherever and whenever you like. It preps your skin for additional skincare products, it works to balance as a toner would, it refreshes makeup, it soothes irritation… Need I say more?!
Yon-Ka Lotion is one of my favourite spritzes as it contains Yon-Ka's signature balance of essential oils and plant glycerine, a humectant hydrator (like hyaluronic acid).
Who will benefit the most:
Any and all hoomans!
Who should avoid:
Those with sensitivities to essential oils should opt for the Caudalíe Grape Water Spritz mini (€6.50) instead!