Should You Ice Your Face?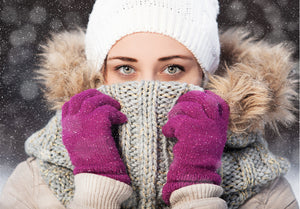 It's officially November, and frosty evenings are coming home to roost, which means that I'm spending increasingly frigid evenings at the side of a pitch. However it's a strange fact that sometimes the cold temperatures can really make your skin look stunning. Have you ever come in from the cold, expecting to look frost-bitten, and instead been greeted by a fresh-faced, pink-cheeked, practically-poreless-in-every-way snow maiden in the mirror?

At the very least, cold air can certainly give you the apple-cheeked glow of a child in a Christmas card, so it's not a huge shock that applying actual ice or ice water to your face would be the next frontier. The use of extreme temperatures is hugely beneficial in lots of ways - think about Cool Sculpting, cryotherapy and of course, cryogenic freezing - although that's still the stuff of sci-fi.

But, is icing your face good for your skin, and does it really work?
Why Should I Ice My Face?
Ice is a short-term (and fairly uncomfortable) solution. Skincare will always provide better effects in the long-run - but if you're really stuck, and willing to be a bit of a maverick, then there's worse things to try than ice. After all, it's a favourite trick of Kate Moss, not to mention Joan Crawford. 

Ice Can Make Pores Look Smaller (Temporarily)
The cold temperature serves to temporarily tighten your pores, which might look enlarged if you have oily skin.

Ice Is An Anti-Inflammatory
The coldness of ice can also reduce swelling - which is common knowledge to anyone with an interest in first aid. It causes vasoconstriction, which means that your blood vessels constrict, and draw blood away from the surface of your skin. 

Ice Gives You A Glow
It works well for revitalising tired or dull skin. It's a great first step in your regime if you're going out - and if you've had a long day, then it definitely wakes you up. However, the 'glow' associated with ice and cold temperatures carries more negatives than positives. It's quite possible that the cold shock could actually make your skin flush red instead - particularly if you already tend towards redness! We're not entirely sure that ice is ideal for giving you the glow you're looking for this party season - you might end up a little more Santa Claus than snow vixen.
How Should I Ice My Face?
We're against face icing as a rule, but if you're really intent on trying out the trend, then keep it short! To ice, you would dip your face into a bowl of ice water for 10-20 seconds, if you can bear it. Then, you would follow on with your full skincare regime - finishing it with SPF, of course.

Alternatively, you could wrap your ice cubes in a cloth (we think the Cleanse Off Mitt might be perfect for this, actually), and apply it to your face for a few seconds. 
To make it crystal clear, I am not advocating for icing your face on the regular or even at all. If temptation calls you, keep it short and sweet and remember the negatives!
Should You Ice With Makeup On?
The clear answer would be no but it exists, and it's called Jamsu. Jamsu means applying your foundation as usual, and then coating your face in a layer of baby powder, and then dipping your made-up face into a bowl of ice water for thirty seconds. When you emerge, they promise that it will be bye-bye, baby(powder), while your makeup should look fresh to death. A bit too high-risk for us. We would probably recommend a good setting spray and a spritz like YonKa Spritz - Lotion PS rather than a face full of ice cubes.
Is Icing Your Face Good for Acne?
It's really tempting to look for quick-fix solutions for something like acne, particularly moving into the party season. There are plenty of benefits of icing your face, and it's one of the most common tips for dealing with breakouts and blemishes. Applying ice to blemishes can bring down the redness, and can be a great super, super last-minute, about-to-rush-out-the-door-and-a-Frank-burgeoning trick, but it's not something I would promote as a true solution if you're suffering from acne or congestion.
Icing a large spot is a temporary helper but won't do anything about the cause of congestion - whereas spot-fighters like salicylic acid, vitamin A or niacinamide will address both the symptom and the cause. If your congested skin is refusing to improve, we would always recommend speaking to your Nerd or Nerdette if you're a member of the Nerd Network, and perhaps taking a referral to our nerdie MD Dr. Olga O'Driscoll.
I Don't Want To Ice My Face, What Should I Do?
In our opinion, it's better for your skin (and probably your soul) to opt for skincare that has the same effects as ice can have - anti-inflammatory, de-puffing ingredients will do the same job without bringing about any redness.
The best thing for healthier, tighter-looking pores is vitamin A, in my opinion, which speeds up skin renewal and helps to improve the appearance of your pores. It's basically a core building block to healthy skin. Skingredients Skin Protein contains vitamin A plus vitamin C alongside other antioxidant and hydrating ingredients, and with vitamin A in its fat form rather than in the form of retinol, many find it less irritating to the skin than your typical retinol.
The Environ Tri Bio-Botanical Revival Masque is designed to bring about long-term results alongside a results-driven skincare routine... However, you do see results instantly on the tightening, brightening, smoothing front even after one use. It contains mandelic acid, which promotes collagen production and diminishes the appearance of fine lines and wrinkles.
To tackle inflammation and puffiness, anti-inflammatory ingredients are what you need. Ingredients like green tea extract and chamomile extract help to lessen inflammation in the body, which can manifest as puffiness in your face and around your eyes. As antioxidants, they neutralise unstable particles inside your skin, and pair with free radical particles inside your body. This results in less puffiness around the eyes - ice-free.
  IMAGE Ormedic Balancing Antioxidant Serum would be a nice option to bring antioxidants into your routine, post cleansing. 
Facial massage is another excellent way to take down puffiness in its tracks - you could try out the Gua Sha Jade Facial Tool to improve your lymphatic drainage and bring down puffiness sans ice. Lymphatic drainage is facial massage which helps dispel fluid, which, when it builds up can lead to puffiness and swelling. 
To get that lost-in-a-snow-drift glow, a combination of exfoliating acids like glycolic, mandelic and lactic are your rockstar ingredients. Gluconolactone is a polyhydroxy acid which provides gentle exfoliation and is present in many Skingredients products, including Skingredients Skin Veg. This is a great ingredient for enhancing serum penetration. Liquorice root is another ideal ingredient for getting your glow - my suggestion would be the IMAGE Iluma Intense Brightening Serum. 
So, should you ice your face? Honestly, no. If you're desperate for a glow like Buttercup from the Princess Bride, we're sure your skincare can do an equally good job - if not a better one. Beauty may be pain, but ice is really, really cold. Hot cup of tea, anyone?