Summer Skincare Favourites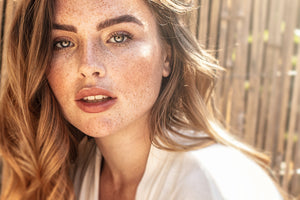 During the summer months it's natural to want to treat yourself to something a little bit different, considering that we all have a little more time on our hands. I don't personally believe that you need to change your routine drastically between the seasons, but it does make sense that people might want to experiment a little bit with this extra time and space. At the core, I truly believe in mixing and matching products that suit yours skin and will help to protect and nourish it from the inside all the way to the outside. 
Also, certain products are used at their best during the summer months. Whereas others are Kings and Queens of the winter time. During the summer months. we might champion products like SPFs, exfoliators, and hydrating products. Through the year we'll no doubt be tweaking and changing products in and out of our routines, but it's entirely possible that you might be finding yourself with a little more time to play during these summer months.
Whether you're staying home or taking a little trip somewhere different, the summer can be a great time for experimentation in the skincare realm. The summer months can bring different challenges for our skin that we might not experience at other times of the year, so it's important to know what your reach for if you're having a flare up of your particular skin care concern. Read on for the rundown on summer spots, the reasons why you may be getting them and some of my summer skincare favourites...
Why you are getting spots in the summer
There are 100,000 reasons why you could be breaking out, but during the summer months we can. Whittle this down to three prime contenders for your breakout woes: Stress, sweat and sultry air.

Stress

Breakouts are something of a vicious circle. The more we breakout, the more we tend to worry about breaking out, and this worry feeds further breakouts until you're stuck. Going around in circles, cursing the day you ever purchased that magnified mirror for the bathroom.

Stress of all kinds can trigger breakouts, and it's no surprise that many hoomans might be. Undergoing periods of particular stress during this summer. We might not be able to remedy all of the things in our life which causes stress, particularly at the moment. But it's worth bearing in mind that you are more than your skin and that. This too shall pass along with (hopefully) your breakouts.
Sweat
It's getting hot in here, so take off all of your clothes makeup and SPF at night. These long hot summer days are a good time, but we need to bear in mind that the elevated temperature has got us sweating. When we sweat, this can combine with any product that we're wearing our skins such as SPM for makeup. It can combine with these to create a kind of soup which can slide lovingly into our pores and block them, which cause - you guessed it - breakouts.
 

Sultry air

Escape this heat and stop ourselves from sweating. We could be subjecting ourselves to other own skin friendly practises such as air conditioning. Although it's a huge relief, particularly during the hottest of hot times, air conditioning can have an effect on the skin, which we might not expect. Air conditioning can work to dry out our skin, prompting it to overproduce sebum in attempt to lubricate itself. This over production of sebum can lead to oil becoming trapped in our pores and breakouts are the natural response.

So how can we fix all of these breakout related issues? In life there is no immediate solutions, but we can take steps to ensure that our breakouts are minimised and that we look after our skin, particularly during these summer months.
Double cleansing year round
Making sure that you cleanse diligently every morning and evening is another excellent way to minimise breakouts. Double cleansing ensures that you are removing all product SPF and makeup from your skin which might otherwise become embedded in your pores.
It's a simple habit, and once you get into it, we promise it's super easy to continue. It could be all that you need in order to make a difference to the condition of your skin. when you cleanse your skin you create a new fresh surface for serums to effectively penetrate, which is good news all around for your skin. It also means that you are not wasting money on serums because they're getting to do their job as effectively as possible.


The Avène Extremely Gentle Cleanser is a great option for humans who are starting off their double cleansing regime. It's super gentle as it suggests in the title and contains Avène's soothing thermal water, making it an ideal first step morning and evening. It's a good habit to get into, and you can save 25% on the Avène product on the theskinnerd.com this month.

Combine it with a cheeky Cleanse Off Mitt for best results. The Cleanse Off Mitt is a reusable microfibre makeup remover tool, which is perfect for helping you to cleanse all product away from your skin.
Salicylic acid 
Friend to the breakout-prone human year-round, salicylic acid is an ideal exfoliating companion for the summer months. It packs a powerful punch, so sensitive skins should go easy, and remember as well that salicylic acid is generally not sanctioned for use by pregnant hoomans. 

Salicylic acid is a beta hydroxy acid and one of my all-time nerdie favourites, so no wonder it has such a prominent place on my list of summer skincare favourites. Salicylic acid can cut through oil to enter pores and dissolve the debris. By dissolving this debris, it can help to minimise the outbreaks of breakouts on the surface of your skin. 

Skingredients Sally Cleanse 

Sally is a mighty lady who packs a punch with two percent salicylic acid formulation. This is the highest percentage of salicylic acid permitted for use in cosmetic retail products in the EU. Sally Cleanse can be used up to three times a week in the evening time, but remember to follow up with your SPF religiously every single day because salicylic acid can increase the photo sensitivity of your skin. And during the summer months, when the sun is hopefully beaming, this is particularly important. 

You could also try out IMAGE Clear Cell Clarifying Gel Cleanser, a foaming, peptide infused cleanser with salicylic acid. These two are definitely summer skincare favourites, every single year! 

During summer months is particularly important to wear your SPF diligently for plenty of reasons. Where are your SPF can help to protect your skin against photo-ageing as well as skin cancer, which is one of the most common skin cancers present in the Irish population, despite our reduced number of sunlit hours. It's imperative that we take this seriously.

Choosing an SPF that's right for you is very important to creating a skin care routine which protects, nourishes and is perfect for your own skin. Some humans find that mineral SPF are more gentle on their skin, whereas others prefer the simplicity of a chemical SPF. Whichever one you prefer, wearing your SPF faithfully every single day is the most important thing you can do for your skin.

Several SPFs have caught my eye this year.

Murad City Skin Broad Spectrum SPF 50

Long awaited and much-loved, we're so glad that Murad City Skin is back on the nerdie store. This mineral SPF gives broad spectrum protection on has a delicate tint to it. It's perfect for wearing under make up or by itself if you prefer. It is vegan friendly and ideal for humans who wish for a tiny bit of coverage while protecting their skin.


NeoStrata Sheer Hydration SPF 35

NeoStrata SPF is ideal for skin which might end towards oiliness or congestion, as it brings marvellous hydration to the skin without any comedogenic factor. Oily skin needs hydration too!

This contains NeoGlucosamine, a lightly exfoliating ingredient which also helps to reduce the appearance of pigmentation, and is rich in antioxidants while being an oil-free SPF.

An SPF Expert Tip: be sure to carefully apply your SPF and if it's an eye-safe formulation, to bring it right up around the eye area to protect your skin from the ageing effects of UV rays from the sun. Apart from the ability of UV rays to prematurely age our skin (and the effect that it has is certainly very notable), it's important to make sure that every cm of our skin is protected to lessen our chances of developing skin cancer.

Even in the mask department, I'm rediscovering the joy of a handy sheet mask. The best part about sheet masks is that they take up so little room in your vanity or your handbag that you can easily stockpile about 20 before you start getting concerned.

The Seoulista Correct & Calm Instant Facial Sheet Mask is a great shout for hoomans with more congested or breakout prone skin. It can make a great addition to your rotation of masks, and is full of antioxidants, as well as being biodegradable.
Spritz O'Clock
The Murad Prebiotic 3-in-1 MultiMist is a hydrating mist, which is perfectly sized to fit into your handbag, Meaning you can bring it with you wherever you go and not look too extra. It is rich in prebiotic hydrating sugars to promote development of good bacteria, help to keep skin hydrated, and help to keep the skin's barrier strong. It also has a bipolymer complex ingredient, which forms a natural, breathable, surface-smoothing second skin that helps prime and set makeup.

The most important thing to remember about summertime skin care is to continue to listen to your skin, and if you have any questions to cheque in with your Nerd or Nerdette To make sure that your skin care routine is working most effectively for you, if you haven't had a chance to chat to inert or nerd out yet, you can still book in for your consultation here. We can guarantee personalised skin care routines and our Nerd and Nerdette team are on-call to assist with any skin care emergencies, summertime or otherwise.