Taking Care of your Skin During Menopause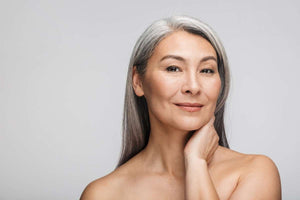 October is Menopause Awareness month and we wanted to shine the spotlight on how you can prepare your skin for the changes it may face during what can be a stressful time for your body, physically and mentally. Despite being something that happens to all female hoomans, it can still feel like a taboo subject, with many women suffering in silence. Because of this, it's not uncommon to feel a little lonely when it comes to going through menopause, but it is not a journey you have to face alone - the Skin Nerds are here to provide nerdie advice and guidance each step of the way!
How menopause affects the skin
Menopause is the body's way of officially stopping menstruation and is defined as "when a woman has not had a menstrual cycle for 12 consecutive months.''* Although menopause is common in women who have come to the end of child-bearing age (usually around mid-late 50s), this isn't always the case - some women have been known to enter menopause as early as their 30s. Menopause generally takes time to complete its transition and may last several years, during which time the body can be impacted psychologically and physiologically. Hormonal fluctuations unsettle the body and changes in skin can occur from the peri-menopausal (first) stage. With hormones in decline, skin produces less sebum which means you might notice that you are no longer oily despite years of having oily skin. Increased sensitivity is common, but other issues can include spot breakouts, itchy skin, redness, wrinkles and general changes in texture and overall appearance. If you already have a skin condition such as acne, you may find that it worsens during this time as skin gets more sensitive. Increased sensitivity can also provoke allergies and low estrogen levels commonly lead to dry skin.
What you can do about it
It can knock your confidence when your skin suddenly starts reacting to everything, but there are some steps you can take to feel better in your skin and ease any discomfort.
Nourish from within
At The Skin Nerd our philosophy is to treat the skin with an inside, outside and on top approach. With this in mind, lifestyle changes such as reassessing your diet and upping your water intake can make a difference to the condition of your skin. Drinking less alcohol and learning to cope with stress can also help you manage external conditions such as itchy skin. A diet rich in nuts, seeds and fish will benefit your skin and help to boost your sense of wellbeing. Maintain a regular sleeping pattern and make exercise a habit to keep muscles fit and circulation of oxygenated blood pumping around the body. If you need a further boost, try a skin supplement such as Advanced Nutrition Programme Skin Omegas+ (€37), which contains vitamin A with omegas to support healthy skin function.
Target specific skincare concerns
Dryness: Avoid long, hot baths and remember to regularly apply moisturiser to comfort dry skin. Keep skin healthy with the use of sunscreen and avoid harsh soaps and detergents that can aggravate dehydrated skin.
Sensitivity: Stay away from scented skincare. We stand by the motto, "smells don't change cells" and these inessential additives can irritate sensitive skin and provide little to no benefit to the skin. Look out for anti-inflammatory ingredients such as aloe vera, chamomile and calendula extract to calm angry, red skin.
Blemishes: You may find you get spots on your breasts and other parts of your body because of night sweats and hot flushes. Try ASAP Skincare Clear Skin Body Gel (€48) which contains salicylic acid to help treat body acne and remove dead skin cells.
Sagging: All hoomans will eventually have sagging skin – it's a natural part of the ageing process. Whilst sun protection and vitamin A are key to preventing premature sagging, treatments such as microneedling or laser resurfacing can have a significant effect.
Product recommendations
As oil secretion is reduced during menopause, Skingredients Skin Good Fats (€55) will help to keep the skin barrier optimal. Containing ceramides and shea butter glycerides for nourishment and hydration, the luxurious cream adds moisture and comfort to skin in need of TLC.
A nourishing cleanser containing squalene or rose hip oil will help to keep the skin soft and supple. A creamy lotion cleanser like Skingredients PreProbiotic Cleanse (€29) is ideal for skin that feels tight. Utilising a prebiotic-probiotic complex PrePro helps to balance your skin's microbiome without stripping the skin.
Codex Beauty Bia Facial Oil (€85) contains rosehip and seabuckthorn oils to help to soothe uncomfortable skin.
To help calm redness try ASAP Skincare Super B Complex (€69) as a serum after cleansing morning and evening. This serum contains phytoestrogen which helps to disguise redness.
If you have any concerns, please do seek advice from your GP, a nutritionist, and remember we are always here to help! This is not a taboo subject – it is our norm and we are here to normalise it!
For more skinformation and tips, why not book a consultation with one of our Skin Nerds? Not only will you get one-on-one advice on specific skin concerns, but you can also create a specialised regime including personalised product recommendations! Click here to find out more!
* Valdes A, Bajaj T. StatPearls [Internet]. StatPearls Publishing; Treasure Island (FL): Jun 2, 2021. Estrogen Therapy