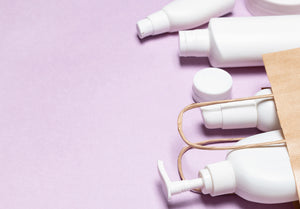 The building blocks of a good skincare routine starts from humble beginnings. It's easy to be overwhelmed when you consider the millions of products out there, but starting off with the basics is absolutely key. When you're comfortable with your best basic skincare life, you can get fancy with it and really nerd out if you want to. But in order to get to the good bits, you've got to start out from the ground up. I'm taking you back to Basic Bootcamp with me this week. We're going to investigate the basics of skincare, and perfect your routine. Remember, you've got to walk before you run. 
You can't fail at skincare (well, unless you're using wipes, but you know how I feel about that). It's something that you do for yourself, to take care of your skin health and your mental health, and that's something that we are all for. There's nothing wrong with being a little bit basic, where skincare is concerned.
Pre-Cleansing
The very first thing in your skincare routine is always, always, always a good cleanse. Cleansing is the very first step of your skincare routine, and unfortunately most people don't quite have the hang of it! Cleansing (correctly) will remove makeup from your skin. You don't wear makeup? I'm delighted for you. You should still double-cleanse!
Pollution, excess oil and dead skin cells sitting in pores can do a number on your skin, and there's no good smearing on your lovely serums over a layer of grime. It's just not the nerdie way and it basically means you're not getting value for money either.
Double cleansing is formed of a pre-cleanse, followed by your more traditional double-cleanse. You can pre-cleanse with a product like a pre-cleanse oil, balm or lotion, as this will help to emulsify your makeup, and remove oil from your skin. Don't fear the oil, even if you're more oil or congestion prone yourself. Oil cuts through oil! If you comprehensively remove all the oily product, you're still absolutely golden. Unlike other types of cleansing, pre-cleansing with an oily or fatty product can be done on dry skin, directly onto makeup. This is because it already has slip, so you don't need it to lather. 
When it comes to pre-cleansing, I'm rather biased, as my own preference would have to be the Cleanse Off Mitt, the creature of my own creation. Simply add warm water to the mitt, and gently swipe the mitt in small circles from your nose outwards to remove makeup or any residue left on your face. For your double cleanse, I would recommend starting off with a gentle cleanser. For example, Skingredients PreProbiotic Cleanse is formulated to give something back to your skin, and keep it balanced. Biofresh Probiotic Ultra Delicate Cleansing Milk is another gorgeous cleanser which I definitely approve. It's formulated to promote cell renewal, and it works wonders on skin prone towards redness. (It's one of the star products in our new Nerdie Redness Kit for this reason)
How To Cleanse
If you're coming from using face wipes, start off with a gentle cleanser. If you're more confident, you could consider using a 'treatment' cleanser once or twice a week This is also called an 'active' cleanser (that is, one that's acid-based). Your active cleanser might have exfoliating acids, like AHA (alpha hydroxy acid) or BHA (beta hydroxy acid) as the rockstar ingredient. The idea is to combine active and inactive cleansers - i.e. cleansers that take from your skin, and cleansers that give back. Not all cleansers are created equally, but each has their place depending on your skin concern.
AHAs (alpha hydroxy acids) work to brighten and exfoliate your skin with the use of acids, rather than the more standard granular exfoliation. AHAs are water-soluble, and promote cell turnover, sloughing off dead skin cells for a smoother surface. Some help to hydrate your skin, and others can really make a difference when it comes to skin radiance. Glycolic acid is probably the most common type of AHA, and treats ageing skin or skin which is a bit coarse.
BHAs penetrate more deeply into the pore, and dissolve dead skin which might block pores. A common BHA would be salicylic acid, which you might find on your skincare shelf already if you took a gander. Just think - you've been a nerd all along, but you never knew it! 
When you've selected the right cleanser for you, follow the directions carefully. For the most part, you should massage a euro-coin sized amount of product into your skin from the nipples up (always, always from the nipples up!) for a full 60 seconds, before washing it off. I like to use the clean side of my Cleanse Off Mitt to make sure I'm getting every last trace of cleanser off my face.
There. How fresh do you feel? Now your skin is deliciously clean, primed and ready for your favourite serums, and if it's morning time, SPF. 
Why Should I Double Cleanse?
Here's another particularly basic skincare query. Now you know to the letter how to go about cleansing, and that's all well and good, but if you're not sold on the idea, then how can I be sure you'll do it? Alright, I'll bite. 
You should remove your makeup each and every single night, no excuses. 'But - but - but -' No! No buts! Makeup comes off, head goes on pillow. Goodnight, nerds. 
Think about how many hours of the day that you wear makeup for - it's probably ten-plus, if you're anything like me. When the day is over, your skin needs time to repair itself, and be free of the makeup prison of daytime. During the night and when you sleep is the time that the skin uses to carry out its important processes. These process happens 30 times faster at night than during the day, and it helps to make sure our pores don't get clogged.
Apart from this, makeup isn't formulated for overnight wear. It's full of fats, oils and colouring which makes us look truly divine (and sometimes we need a bit of that), but it's not always the healthiest for our skin. Makeup can trap oil and pollution in our pores as well, which is another compelling reason for making sure we get each and every scrap of it off at the end of the day. Otherwise we can succumb to breakouts - hardly ideal. 
If I've sold you on this, but now you're thinking 'uh-oh, where to start now?', fear not. Our Nerdie Congestion Kit is available for purchase, and it contains all the essentials for looking after excessive oiliness, blackheads and spots. It's not absolutely everything we'd recommend but it's a great starter pack!
Should I Use a Serum?
Should you? But of course! A serum might sound fancy, but I promise it's as basic as it gets. Vitamin A serums are truly essential, particularly as no hooman produces Vitamin A in their body. Every bit of it that we have comes from our diet. We can also apply it topically - enter serums. Vitamin A is an antioxidant, and it is the only vitamin that can cause a physical change in skin and actually repair DNA, as well as aiding in collagen production and hydrate your skin! Skingredients Skin Protein is a Vitamin A serum, and I would also recommend Environ Skin EssentiA AVST Moisturiser 1, but this is only available through the Nerd Network. 
A Vitamin A serum is your basic serum, but as a secondary serum, you could experiment with a hydrating or brightening serum - Neostrata Bionic Face Serum contains lactobionic acid which provides hydration to dry skin in need of a good drink. It's also one of the most popular serums you'll find on the Nerdie Store - it's adored! (It's also available as part of our Nerdie Hydration Kit). 
Should I Use SPF?
SPF is the final step of your daily skincare routine, unless you're intending on put on (mineral) makeup. SPF is vital - 365 days of the year. The skin is an organ, and it's an organ that needs protection from harmful UVB and UVA rays. UVB rays might be seasonal, but UVA rays are always hanging around, so a broad-spectrum SPF is absolutely key. Even if you've never worn SPF before, it's not too late to start. 
SPF doesn't have to correspond to the image you might have of it - gloopy, white exploded bottles of suncream ruining your car. There are sexy and silky SPFs which sit beautifully on your skin and form a gorgeous base for makeup, if you're so inclined. At the moment, I'm very fond of a physical SPF, aka a mineral SPF, like the Neostrata Sheer Physical Protection SPF50 or Skin Shield.
In What Order Do I Apply It All?
Time for your nerdie checklist. Skincare time, baby - let's go!
Firstly: we cleanse, cleanse, cleanse. Pre-cleanse with a COM and warm water. Then, we cleanse again, with either your gentle cleanser, or your treatment cleanser, depending on your needs.
Secondly: Serum time! A serum is like a concentrated form of moisturiser which delivers all the good stuff deep into your skin. You can choose a serum to target your own particular skin concerns, whether you're prone to redness, congestion or dry or dehydrated skin. 
Finally: SPF. Every day. Make sure you apply half a teaspoon to your face alone, and tap it into your skin rather than rubbing it in. Don't forget your neck and ears, too - or any other exposed skin. Take your time with this step, and try not to miss anywhere. Take this opportunity to make up a limerick, if you like, while you apply your SPF. We're not going to tell you off. 
And that's the very basics of skincare. So now you can now graduate Basic Bootcamp. Soon we'll have you on board with Spritz O'Clock!
If you want to check out our new Nerdie Kits,
click here
!