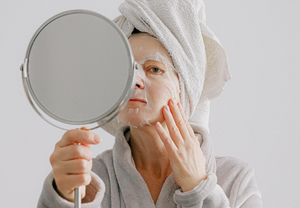 There's no doubt about it – we're all thinking about masks more than ever. Do we have one in our handbag, or in our car? Does it fit snugly around our face? Cripes, is this the one I used yesterday? Wearing face masks out and about might be having a bit of an impact on your skin at present. It's possible that you might be finding your skin breaking a little more than usual, or feeling more dry or irritated than it has in a long time.  
If you'd like some skincare tips on how to handle maskne and another increasingly common skincare concerns brought on by masks, then you can read all about it in my blog on the subject. 
However, today I'm going to be talking about masks that are a little cosier to discuss, and in fact, may actually help to reverse some to the effects of mask-wearing with a little pampering.  
How To Choose A Mask
Choosing a mask for your skin can really be the cherry on the top of your routine. There's such a wealth of product available out there that hoomans can sometimes make the mistake of thinking that a mask is a mask, and as long as you can slap it on the turn up the Enya in the background, you're onto a good thing. This is not always the case (but you should always be blasting Enya, in my opinion).  
I've talked to so many hoomans who will blithely tell me that every time they put on a mask, they break out the day after. And these hoomans generally just assume that this is all part of the masking experience. It's not! The 'purge' was we call it is the sometimes unavoidable step in some skincare routines (generally when we increase the amount of vitamin A in a routine, but this doesn't happen to every single hooman!), but it's not the natural predecessor to a day or night of pampering.   
Your own particular skincare concern has a match in masks, so without further ado, here's some top tips for masks that might suit you.
Remember, before you mask...
… cleanse, cleanse, cleanse! It's super important to make sure your skin is cleansed thoroughly and that you won't be applying mask over skin which has the vestiges of product still bubbling beneath it.  
Give your skin a thorough cleanse by pre-cleansing with a damp Cleanse Off Mitt from the nipples up to remove any oil, SPF, makeup on the surface of the skin. Follow this with double-cleansing with gentle cleanser of your choice – for example, Skingredients PreProbiotic Cleanse or Galinee La Culture Foaming Facial Wash – for 60 seconds, from the nipples up. Remove with the clean side of your Cleanse Off Mitt. Now you're ready for your mask! 
The two types of mask: 
You can choose between clay masks or sheet masks. Both have advantages and drawbacks. Clay masks might need s little more time to prepare and can be slightly messier, but they are often very effective. Sheet masks are a handy alternative, but might not be as utterly effective! When it comes to different skin types, we have some top tips for masks...
If you have oily skin or are spot-prone … 
Choosing a mask with the correct ingredients is key. Oilier skin can benefit from masks which have some salicylic acid in them, some tea-tree oil, or even charcoal.  
Environ Focus Care Clarity+ Sebu-Clear Masque 
This is a highly effective clay mask which you can paint onto damp skin with the brush provided. It is a creamy, low pH creamy mask that assists in clearing the appearance of existing breakouts with a combination of exfoliating acids, leaving the skin looking visibly healthier and smoother.  
It contains a combination of lactic acid, salicylic acid, and tea tree oil. This is a combination of exfoliating acids and antibacterial and anti-inflammatory ingredients to slough off skin and help to heal existing breakouts without drying your skin too much.  
Apply a cherry-sized amount across affected areas after cleansing (and spritzing). Leave for 10 minutes and cleanse away with your Cleanse Off Mitt. Use every 3 days or as advised by your Nerd or Nerdette. This effective masque is only available post-consultation! 
 
Dermalogica Clear Start Blackhead Clearing Fizz Mask 
This mask is a great shout for teen hoomans or hoomans who are pregnant. It has a funky active fizzing formula. The technology activates upon application, helping to open pores, decongest skin and facilitate blackhead clearing.  
It contains sulfur for skin-clearing, and kaolin clay to absorb oil. It's definitely a sure-fire way to bring a bit of literally pizazz to your routine, too.  
Seoulista Charcoal Detox Instant Facial Sheet Mask 
This sheet mask is actually something that makes a great gift, or is perfect for bringing to a pamper session if you like to be prepared with products that you're sure will suit your skin. Seoulista Charcoal Detox Instant Facial contains charcoal and volcanic ash as well as bamboo to draw impurities out from the skin and minimise the appearance of pores.  
It's made from a bio-cellulose sheet, meaning it's totally biodegradable as well as adhering well to your skin. Use it once or twice a week for up to 20 minutes! 
If you have dry skin … 
IMAGE Vital C Hydrating Enzyme Masque 
This is a highly hydrating mask that is full of exfoliating enzymes and nourishing Vitamins A, C, and E, perfect for skin needing a boost of hydration.  
It contains a blend of L- ascorbic acid and sodium ascorbyl phosphate, stable forms of pigment-diminishing and skin brightening vitamin A. It also contains plumping hyaluronic acid retinyl palmitate, a fat-form of vitamin A to prompt collagen production, help skin-cell turnover and help healing and inflammation.  
This masque is particularly suited to hoomans who seek exfoliation but don't find that their skin responds well to acids! 
Apply a thick layer once or twice a week - once a week for the oily and congestion-prone hoomans. If you are spot-prone to only apply for up to 10 minutes rather than the recommended 30.  
This is suitable for hoomans prone to rosacea! 
This hyaluronic acid-rich is suitable for sleeping in the night before a big event, if you're looking to plump up skin which might be in need of some pampering! 
Formulated to help prevent premature ageing and to hydrate dry skin, DMK Hydrating Masque is great for skin prone to irritation and sensitivity. It can help skin to appear more firm, too. This product is only available post-consultation.  
Seoulista Super Hydration Instant Facial Sheet Mask 
This sheet mask is a favourite for bringing away on trips. Seoulista Super Hydration Instant Facial is a hyaluronic acid infused sheet mask, with bonus antioxidant-rich coconut. It really is as simple as you think – apply once or twice a week for best results and pat the remaining serum on afterwards. 
If you're prone to environmental damage … 
REN Glycolactic Radiance Renewal Mask 
If you've got skin which is maybe a bit more mature, sun-damaged, or dry, this this might be the produc for you. It exfoliates with a combination of glycolic acid, alctic aid, and paina from papaya – an enzyme which provides more gentle exfoliation.  
If you have sensitized skin … 
REN Evercalm Ultra Comforting Rescue Mask 
This mask is formulated to target the signs of sensitised skin, this calming mask uses an innovative bio-actives complex to strengthen skin's barrier as it moisturises, de-stresses, and comforts the skin, boosting its overall health. It's packed with soothing ingredients like white mushroom extract (Albarellus Ovinus) gotu kola, and horse chestnut flower extract. Apply a generous amount on to cleansed skin, and leave on for 10-15 minutes, then rinse away with cold water using your Cleanse Off Mitt and follow with your usual skincare routine. Use three times a week or when your skin needs a rescue. 
If you have more mature skin … 
Environ Tri Bio-Botanical Revival Masque 
This nerdie favourite can certainly give astonishing results. Environ calls it the 'Face Lift in a Jar'. Environ's Tri Biobotanical Revival Masque is formulated with alpha hydroxy acids which help to hydrate and rejuvenate skin giving it a younger, fresher appearance. Ask your Nerd or Nerdette about this product to get the nerdiest tips and tricks on how to use it best, but it's certainly a product that we return to again and again.  
IMAGE Ageless Total Resurfacing Masque 
Did you know that Janna Ronert, creator, founder, and CEO of IMAGE skincare swears by this product herself? This is a micro-exfoliating masque with alpha hydroxy acids which can help to resurface and rejuvenate the skin.  
Where else can I mask?  
Did you know that when it comes to masking, the sky is the limit? Well, it's true – if you replace sky with 'skin'. You can mask (almost) anywhere! It's all about identifying skin which needs more of a focussed approach. You can learn more about body masking in our blog!
If your skin is feeling the effects of masks, then we like to think that adding another mask (ok, a different kind) can help to cancel out any negative effects! Masking post-masking sounds like the kind of soothing end of day plan that we could really get behind.  
How do you mask? Have our top tips for masks helped you out?