Travel Skincare For A Weekend Away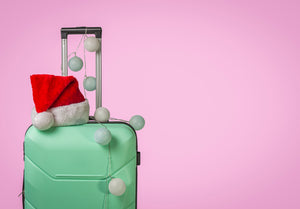 Knowing which skincare to bring for a weekend away becomes increasingly important when it comes to party season. A key aspect of the party season is girlie nights out, hen nights on the town, and a huge lack of taxis.

It can seem like the entire country is on the streets of the capital city, in sequins and faux fur, and everyone is trying to head out of town and back to the suburbs. Sometimes, the Christmas house-party will continue on, and before you know it it's far too late to even think about shuffling home.

Whether you're creeping away in the dawn light or strutting home loud and proud, tea in hand, there is only one thing which I may consider judging you for - and that's an uncleansed face in the morning light! This is why the skincare you're bringing with you has to be something you think about.

I'm sure there's been the odd time that you've left the house with a cheeky fold up toothbrush in your clutch, so why should your skincare be so different? You don't need to take the kitchen sink, but there's a few bits which are sure to make your morning after a little more triumphant than terrible, in the skincare department at the very least.
Visiting The In-Laws: Skincare For A Weekend Away
Maybe this is the first time you're spending any amount of time with your in-laws whatsoever. Maybe you've never slept in the same house as them before, and have managed to keep your relationship to flying dinner visits, coffee mornings, or awkward brunches. Whether you've been married ten years or dating five months and yet to fully, fully decide just what it is, you may well end up spending a night or two in The Family Home this festive season.

Deciding what to bring can be a tricky one. We all want to make a good impression and make sure that these people, these life-givers of our partners, understand that we are very respectable and admirable hoomans in our own right. This means our most comfy yet chic clothes are coming with us - and also our skincare, and maybe a hairdryer, and definitely two pairs of shoes.

However, appearance is everything, and the secret to a successful visit to the in-laws is nodding and smiling. The physical epitome of nodding and smiling is no more than two bags - a handbag and a petite overnight bag. But how the blimming hell do you fit all of your skincare into the bag? Alright, don't panic. You can fit your shoes AND your serums. You just need to be a bit inventive.

Essentials: a makeup remover (I vote the COM to save on space), a mild cleanser that will serve to remove all traces of makeup residue, oils and debris from the skin, a hydrating serum or vitamin A serum plus your SPF.

Leave at home: Your face masks, your jade roller, your 'once a week' serum…

*But consider bringing an exfoliating product if you're going to be there for more than just a few days.*

But, you say, I've still no room! Decanting may be your friend. You can decant your bits into small glass bottles (aromatherapy bottles are super handy) in order to shove them into your bag. Be careful when decanting actives - ingredients like vitamin A and vitamin C are notoriously sensitive to light and oxygen, so avoid decanting these guys.

This way you'll have your bits with you, and look glowing and presentable, but will avoid all of the terrible jokes of your father-in-law who will take it upon himself to heft your bag up the stairs.
Night On The Town: Clutch Edition
Alright, you're going out. Your clutch is struggling to hold your keys and your phone - so what to do? Fear not, we've still got you sorted. No panda eyes for you.
Roll up your COM and get it into your bag (or your coat pocket - look, beggars can't be choosers. Failing them, tuck it into your waistband - make it work).

Now, dig around and find your favourite travel minis. Maybe it's an IMAGE sample, maybe it's a lovely sachet which you got with your last purchase - they're around your house and this is their moment.

Slim and small, these babies will fit in your bag and sort your out. Your COM will get all of your makeup off with only warm water, and then you can go in for a double cleanse and make your inner nerd super happy. This way, even if you leave on the first whisper of dawn, you won't leave anything behind - not even a mascara smear.

Essentials: your Cleanse Off Mitt, a mini cleanser, a mini serum, mini SPF - top tip: pop them inside the COM or it's resealable packaging

Leave at home: Full-sizes, spot treatments, your extra serum, your expectations for a great skin day when you wake up

Of course, if worst comes to worst, your COM alone will do in a pinch for a cheat night. You can always give your skin some exfoliating love when you eventually return home.
Christmas Sleepover
Sometimes, the sleeping away skincare is the point. If you're taking some annual leave around Christmas, then maybe you're in the planning stage of a really spectacular Christmas sleepover already! 
You've made a poll of Christmas movies (couldn't decide between Elf and Love Actually myself, ideally you should always watch one after the other), you've made eggnog (lots of choice here, even have a few vegan recipes), the Christmas pjs are primed and ready and you're planning on just how to go about the ultimate sleepover.

Sleepover skincare is always a huge hit and central part of Christmas sleepover with the gals, post-bubbly and pre-eye mask.

If you're the skincare friend (I can relate), then they're probably expecting you to impress them. Masks are the best place to start with this. Let's be real - it's what the non-skincare-friends expect from you.

If you're catering for specific lifestyle needs, then the Add-on Beauty Dry Mask - Vegan Nutrition would be ideal, but you know I'm a massive fan of the Seoulista Instant Facials too.




If you're looking to have the team glowing and exfoliated, then our suggestion would be something like the Environ Tri Bio Botanical Revival Masque (Nerd Network exclusive), applied with its own brush - just be sure to clean it between users. The REN Glycolactic Radiance Renewal Mask is also exfoliating and glow-bringing with naturally-derived glycolic acid, lactic acid and exfoliating enzymes making it effective but gentle enough for most hoomans!

You could also bring out your Gua Sha Jade Facial Tool or jade roller and supply a bit of lymphatic drainage and relaxation if you're looking to really become the skincare host with the most.

The Nerdie Conclusion

Sometimes it is okay to do the bare minimum - you're only hooman. Realistically, so long as you cleanse and SPF, you won't be put on Santa's naughty list (or mine). So get rooting for those samples or tiny pots for decanting and stop stressing out.