Why I Think Face Wipes Are Not Good For Your Skin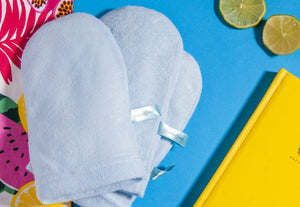 To find out why I think face wipes aren't good for your skin and why I created the Cleanse Off Mitt, we must travel to London, 2014. I was working as a dermal facialist, looking after the skin of hoomans willing to drop a lot on skincare products, the type of people who would easily have a facial a week if they only had the time. I adored doing it and trying my best to spread the word of skin health but these very same people were "cleansing" with makeup wipes and then applying expensive, results-driven products directly after. 
Why Face Wipes Are Not Good For Your Skin
It broke my nerdie heart to see their skin become dehydrated by the drying ingredients in the wipes, and even more so to know that the skincare wouldn't be able to penetrate into their skin since it would still be covered in a film of sebum and traces of makeup. Try as I may, I couldn't quite nudge them towards the idea of a double cleanse because it was "too difficult" and "would take too much time".
I will admit, I'd seen similar products to what became the Cleanse Off Mitt before, in other countries and at fairly inaccessible price points. I adored the concept: something that was skin-friendly, easy to use, travel-friendly and would cut down on single use waste. That was where the idea of the Cleanse Off Mitt came to life. I wasn't creating something entirely new, but I was making it easier for people to get their hands on and my goal was to make it as simple as possible. 
Why blue? Blue became the colour of the COM because it was my son's favourite colour, and for me, the COM was to be a product for all ages, all genders and all hoomans, regardless of specific skin concerns, skin types or anything else. I'm delighted to be able to say that 350,000 Cleanse Off Mitts have been sold since its conception!
Why The Cleanse Off Mitt Exists
At the end of the day, the Cleanse Off Mitt exists because of how the majority of face wipes strip the skin, causing short-term irritation and potential long-term damage (such as worsening of lines and wrinkles), and leave debris, sebum and physical pollution particles on the face. In my eyes, it's the precleanse tool I always wanted to exist whilst simultaneously being a stand-alone sneaky cheat night for when you want your head on the pillow A-S-A-P. 
Now, with beauty becoming more sustainable, the Cleanse Off Mitt is getting to shine brighter than it has gotten to before, with the incredible Sali Hughes, author and Guardian contributor, including it in her list of best product-free makeup removers (this link will take you to The Guardian website, by the way). 
It's on our agenda to find a biodegradable alternative to the non-biodegradable polyester that the COM is currently made of, and reusable packaging is coming soon, with a biodegradable alternative to our packaging also in the (slightly longer) pipeline.
If you are not yet a COMvert, I ask you to give our amazing stockists some love. Many of them have supported the little blue mitt from the very beginning - most of them are in Ireland but there are indeed some in England, Scotland, Australia, Canada and France (oh-la-la).