Your Skincare Routine, Prioritised: Most Important Products In Order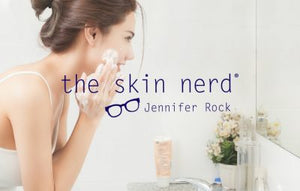 I believe in a 360˚ approach to skincare and by that I mean nutrition and supplements on the inside, cosmeceutical and cosmetic skincare on the outside and mineral makeup on top of it all. The skin and skin concerns are a jigsaw puzzle.
All of the pieces have to be in place to see the bigger picture and to solve it. Nonetheless, this can often be a) expensive and b) daunting for some. Starting to use a proper skincare routine can be like learning to swim. You don't just jump right into the deep end wearing professional-level swim gear - you need armbands, goggles and an instructor in the shallow end with you and it's completely fine to start out doing the motions for swimming separately.
That's what I'll be guiding you in today: prioritising the skincare products you need, not in aesthetic terms, but from the perspective of a skin therapist. Knowing what you need first and foremost, even if you are having consultations with a professional, is important, especially if you are counting the euro coins.
Your Skincare Routine, Prioritised:
1. SPF/Sunscreen
SPF isn't glamorous, it's not fluffy and delicious-smelling or instantly transformative. What it is is a complete essential. If someone has a skincare routine that doesn't include a true, broad-spectrum sunscreen, it ain't a skincare routine in my eyes.
Sunscreen prevents accelerated ageing, can aid in stopping pigmentation from the sun or from acne from occurring or worsening and protects us from the damage that can lead to the formation of skin cancer. People always ask me for recommendations for anti-ageing products and I tell them that the number one will always be wearing SPF as a preventative method. Always.  
Some of my favourite facial SPFs include but are not limited to Avène's Tinted Mineral Fluid SPF 50 (lightweight/fluid mineral sunscreen with a mild tan tint, ideal for those who react to the usual sunscreen chemicals, €21.00), IMAGE Prevention+ Daily Matte OR Hydrating Moisturizer SPF 32/30 (both available for €46.00 on The Skin Nerd store) and Académie Scientifique De Beauté's Sun Stick For Sensitive Areas SPF 50+ (containing antioxidant vitamin E to protect from free radical damage and shea butter, so perfect for a dry or mature skin and highly compact, €23.00).
2. Cleanser
It has recently become quite en vogue to NOT cleanse with many celebrities and beauty editors and I think that is pure bananas. In a perfect world, the skin would "cleanse" itself in a sense. However, we're not in a perfect world - if only! We wear makeup, the air around us is polluted, we touch our face with our dirty fingers… I'm not saying that we don't wash our hands, I'm saying that we're constantly in contact with things covered in bacteria and grime!
Because of this, we NEED to cleanse. I'm a big proponent for the double cleanse - why cleanse once when you can cleanse twice? Your first step is removing your makeup and any debris that has accumulated throughout the day. It's not nice to think that things are gathering on your face but it is a home truth.
I am biased but my favourite precleanse is a precleanse with the Cleanse Off Mitt (€5.95) as it is quick and requires just water + mitt. Easy peasy lemon squeezy. Wipes (or micellar water) don't count as a precleanse as they just displace your makeup around your face and don't truly remove it - they're also harmful to your skin. Sorry, not sorry.
You need to follow your first cleansing step with a cleanser that will soothe, nourish or treat your skin. Nourishing and soothing cleansers are cleansers that maybe don't contain active ingredients that will prompt your skin to change or tackle your concerns but pacify it and help to balance it.
"Inactive" cleansers that I adore would be probiotic cleansers like those from Biofresh (€18.00, a cleansing milk so best for dry/dehydrated/mature skins) or Gallinèe (€16.50, a probiotic foaming wash perfect for oilier, normal skin types or those who won't stray from a wash) as they are mild yet still help to balance the skin and give back to it.
I personally like at least one of my cleansers to be my exfoliator or to do something for my skin. This is where active cleansers come in, the ones from cosmeceutical brands that contain exfoliating acids, carefully chosen botanicals and high amounts of vitamins.
When it comes to active cleansers, you really should be having a consultation to figure out what is best for your specific skin as they are more expensive than pacifying cleansers so you want to make sure you're getting that value and because you need to know how and when to use them properly.
3. Serum
You may be surprised to see serum in this spot instead of toner or moisturiser. I don't believe in the traditional astringent toner as often touted - it usually "mattifies" the skin by dehydrating it… Bad news for toner fans.
Hydration-wise, controversially, a good serum works better than a moisturiser. How, you ask? Well, a serum has smaller molecules and a thinner consistency than most moisturisers so it can get deeper into the skin and hydrate at a lower level.
Moisturisers, due to their thickness, sit on top of the skin and condition the uppermost layers rather than hydrate lower down. I believe if you are going to get a serum, start with a vitamin A serum as vitamin A is just an all-rounder for skin concerns and general skin health…
In the form of retinyl palmitate, it can repair the cells within the skin and promote their general health which means that many skin concerns are tackled in one go, including pigmentation (sun spots, discolouration etc.), fine lines, dullness, lax skin and more.
Environ's SkinEssentiA AVST Moisturiser is a step-up system that introduces this form of vitamin A to the skin gradually so as to cut down on chances of irritation which can happen when you introduce vitamin A to the skin.
Other serums that I think are fabulous are…
Quick nerdie note: while we're on the topic of antioxidants, I think it is of utmost importance to have them in your routine in some place or another, whether it be your sunscreen, your serum or elsewhere. Antioxidants neutralise these divils that are called free radicals that, when left to their own devices, can cause our skin to age faster.
4. Supplements
Skincare supplements are such a broad topic that I have covered many a time but they need to be in here under serums and before everything else. Your topical products can't get to your dermis aka the living layer of your skin, where your skin forms.
Ensuring that your body has the optimal daily allowance of certain nutrients means that your skin can benefit in so many different ways. The supplements that would be best for your skin depends on a number of factors. Are you a smoker with pigmentation? You probably need a skin-orientated vitamin C supplement, as smoking depletes your levels of vitamin C and vitamin C is key for battling pigment. Is your skin dry, dehydrated or do you have eczema, rosacea or other conditions where your skin's barrier is compromised? You need omegas, good quality ones at that.
5. Exfoliation
If you don't get your exfoliation in with an acid-based (active) cleanser, you'll probably need to exfoliate in a different way. We don't want no scrubs, nor any other forms of mechanical exfoliation such as facial brushes, exfoliating pads, NADA.
That mode of exfoliation creates tiny tears on the surface of the skin. There are loads of exfoliating options that you can do once or twice a week outside of your core skin products. Exfoliating products encourage our skin to exfoliate itself, like a trainer in the gym that makes you run a little bit faster, train a little bit harder. When our skin exfoliates faster, it is less likely that our pores will become clogged and we look fresher, younger and brighter.
The REN Glycolactic Radiance Renewal Mask (€35.00) is packed with naturally-derived glycolic and lactic acid (AHAs) and enzymes to motivate those dead skin cells to slough off - I'm a big fan of this one as late!
For a heavy hitter, the IMAGE Ageless Total Resurfacing Masque (€41.00, available to Nerd Networkers) is chockfull of glycolic acid.
6. Everything Else
Eye creams, masques, spot treatments, essences, facial oils, night creams and the rest should be considered and added after you've hit the other bases. Masques are lovely but are meant to be used as a boost to your usual routine. Sad news: one masque a week cannot undo a week's worth of pollution, wipe usage, lack of nutrients or nourish every part of your skin. The hydration you get from a masque won't last you a whole week either!
The majority of eye creams a) aren't designed for use on the actual undereye area (isn't this the weirdest thing ever?) and b) include the same ingredients found in many serums. If you're trying to scale down your routine, use your vitamin A serum around your eyes if it is eye-safe or a different eye-safe serum.
I love a facial oil as they are a multi-purpose product through and through - use them on your face, the ends of your hair or your cuticles. In this sense, if you want one, get it! 
This has been a long one but I hope you understand the core of a skincare regime a little bit better (and the things you can skip if you need to skimp a bit)!