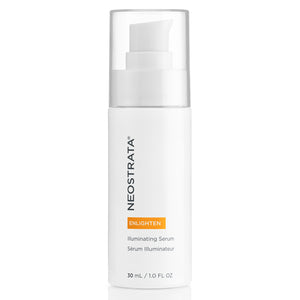 Alcohol Denat., Triethyl Citrate, Glycerin, Pentaerythrityl Tetraethylhexanoate, Propylene Glycol, Butyloctyl Salicylate, Tocopheryl Acetate, Retinol, Bisabolol, BHT, Polysorbate 20.
Fab!
Must be on fifth or sixth bottle now, found it fab to reduce redness.
WOW sixth bottle- This is amazing Yvonne!
Thank you so much for supporting The Skin Nerd and delighted you are enjoying your purchases
Not good at all
Sticky and really irritated my skin
Consultation
Really happy with consultation. Have recommended to lots of friends.
I have been using the bionic serum for the past year and find it excellent. I decided to try the enlighten serum but am very disappointed. It makes my skin very red and sensitive and I have had to stop using it.
Neostrata Enlighten Illuminating Serum helps reduce the appearance of skin discolouration, targeting a more even tone.
This multi-action serum targets skin discolouration and uneven skin tone. Contains NEOGLUCOSAMINE®, a gentle exfoliator known to help fade the appearance of existing skin discolourations. This formula includes 4% Niacinamide (Vitamin B3), and a blend of vitamin C, B-Resorcinol and Liquorice Extract to help promote a brighter and more even skin tone.
Contains: 

NeoGlucosamine®: helps exfoliate skin to fade existing skin discolourations
4% Niacinamide: vitamin B3, brightening, antioxidant 
Vitamin C: brightening, antioxidant

This serum is a targeted brightening daily use serum for those with pigmentation such as post-spot marks (aka post-inflammatory hyperpigmentation), age spots/sun spots, mottled pigmentation and other forms of dark spots! 
How to use:
Using fingertips, apply serum twice daily to cleansed skin. Can be smoothed all over the face and neck. Limit sun exposure during and after use to prevent darkening from reoccurring.