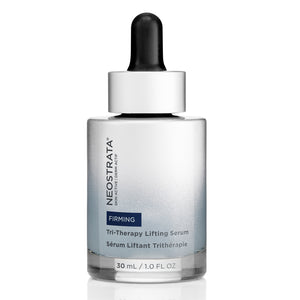 This serum is very light and leaves you with a nice glow to your skin.
Great products and service
I loved the products recommended to my by your team. An excellent service, this service and fast delivery will entice me to buy again. Thank you for prompt reply
Tri-Therapy Lifting Serum
I have been using it for a few weeks now. Very happy with the results. Brighter,clearer, fresher looking skin.
Excellent
Excellent service as always. Great range of products and always helpful
Amazing
This serum leaves my skin feeling so hydrated at night and in the mornings my skin feels nourished. After a few weeks use I can definitely notice a difference since using it. Would definitely recommend this product!
Neostrata Skin Active Tri-Therapy Lifting Serum volumises the look of slack skin with AMINOFIL®, an amino acid derivative concentrated to target skin's hydrating matrix for a more lifted appearance. Renews tone with Gluconolactone, a Polyhydroxy Acid, an antioxidant chelator that helps to gently exfoliate and promote a more even skin tone. Due to its unique small size, LMW (Low Molecular Weight) Hyaluronic Acid penetrates skin's surface to attract moisture, providing hydration to visibly improve skin's texture.
Ideal for hoomans® looking for smoother, more lifted, firmer skin. 
Contains: 

Aminofil: amino acid derivative to target skin's hydrating matrix 
PHA: gently exfoliating, evens skin tone 
Hyaluronic acid: deeply hydrates 
How to use: 
Apply 3-5 drops to the face after cleansing (morning and evening) and after your vitamin A serum.