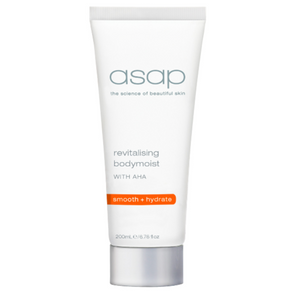 Key ingredients
Glycolic Acid: exfoliating AHA
Green Tea: soothing antioxidant
Grapefruit Oil: stimulating
Grape Seed Oil: nourishing, fatty acids
Olive Oil: nourishing, fatty acids
Rosehip Oil: hydrating, fatty acids
Avocado Oil: hydrating, fatty acids
Apply generously to clean, dry skin. Avoid usage on skin that has just been shaved.
Reliable
Always get my ASAP body cream from these guys, I can always rely on the service and one of the only stockist of this cream that has absolutely changed my skin! Thank you all xxx
Good product
Loving this body moisturiser. I'm not great at using a scrub in the shower so this is so handy to pop on after a shower and I know my skin is going to be helped exfoliate with the acids in it. Delighted
Lovely product
I use this once a week on my body to exfoliate, rather than use a body scrub. It absorbs well and leaves skin feeling very soft which lasts a few days. I would imagine it would be great for prepping your skin the day before applying tan. Not that mad on the smell but it's not strong and it doesn't make a difference anyway.
Note: We are unable to ship ASAP Skincare products outside of Ireland and the UK.
ASAP Skincare Revitalising Bodymoist is an all-over body moisturiser rich in Glycolic Acid, Essential Oils and Green Tea, revitalises and nourishes the skin, leaving it feeling smooth and intensely hydrated, with a light, refreshing citrus fragrance.
Glycolic Acid (AHA) gently exfoliates, while stimulating and promoting collagen production and cell renewal.
Green Tea helps to protect skin against free radical damage
Blend of essential oils revitalise, leaving a light and refreshing citrus fragrance on the skin.
Helps protect skin the damaging effects of daily pollution.
Suitable for all skin types.