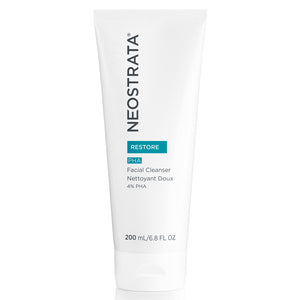 Neostrata PHA Restore Facial Cleanser
Lovely facial Cleanser
I really like this cleanser on my skin. I have sensitive skin and this works really well. Doesn't foam up but does go a bit soap like to give the skin a good cleanse. A little goes a long way.
Favourite cleanser
A fabulous cleanser which leaves my skin soft and clean every time. No irritation and no tightness, my favourite cleanser.
Neostrata PHA Restore Facial Cleanser
Neostrata PHA Restore Facial Cleanser
The Neostrata PHA Restore Facial Cleanser is a soap-free, non-foaming gel formulation gently cleanses and prepares the skin to optimise the skincare regimen that follows. Formulated with a non-irritating Polyhydroxy Acid (PHA), known to lightly exfoliate without drying skin's protective moisture barrier.
Gentle gel facial wash formulated with a gentle PHA exfoliant that effectively removes makeup and impurities without irritation.

Contains: 
4% gluconolactone: gently exfoliating polyhydroxy acid (PHA) 
Ideal for all skins, even very sensitive skin, and ideal as a mild cleanser to use alongside your stronger exfoliating cleanser. 
How to use:
Apply a moderate amount to wet skin and gently massage. Rinse with water. Use twice daily.