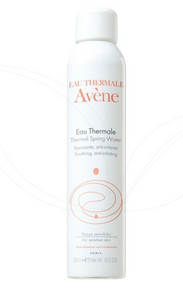 Avene Thermal Water Spray
Really refreshing - love the light mist spray without it feeling 'wet' - I know that sounds funny but its just very comfortable to use - I really like it
Avene Thermal Water Spray 300ml
Refreshing!
This is such a lovely product to have on my desk while WFH! Nice and refreshing – love a 'spritz-o-clock' before work calls!!
Great Product
This is a cheap and cheerful product which is very refreshing...
Note: We are unable to ship Avene products outside of the EU and the UK.
Description
Discover the healing, soothing and anti-inflammatory properties of Thermal Spring Water Spray 300ml from Avène. It is naturally rich in minerals and its many benefits are recognised by the French National Health Institute.
In the form of a spray, Avène Thermal Spring Water is taken directly from the Avène springs. It preserves all its soothing properties which protects your skin and gives you a feeling of softness and freshness.
Indications
Spring water spray with soothing, healing and anti-irritant properties. Thanks to its high tolerance, it is suitable for all skin types.
Directions for use
Post-surgical care to soothe the skin and allow your skin to heal faster.
 As a soothing care, i.e redness or sunburn
To remove makeup, spray on a cotton pad and use to wipe the face clean
To efficiently hydrate and refresh your skin when travelling.