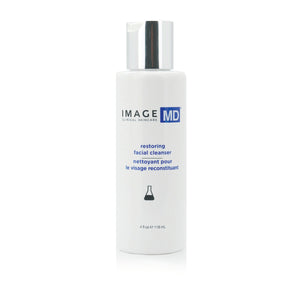 IMAGE MD Restoring Facial Cleanser (118ml)
IMAGE MD Restoring Facial Cleanser (118ml)
Fab
Fantastic product, love the smell & leaves skin feeling like silk.
Great product
Great product will purchase again
Image Restoring cleanser
I feel I'm not using this long enough to know if it's really impacting my skin as I've been advised to use it on alternative days only. Thus far, I like it's texture n the way it leaves my skin feeling. However, I have developed adult acne and to date it has not impacted positively on it.
IMAGE MD Restoring Facial Cleanser is an effective glycolic, lactic and salicylic daily cleanser that gently exfoliates and effectively removes makeup as well as increases cellular turnover for rejuvenation. Prepares skin for optimal absorption of other products.
This cleanser contains:
Glycolic acid, an exfoliating AHA that speeds up skin cell turnover 
Lactic acid, an exfoliating AHA that helps to hydrate 
Salicylic acid, an exfoliating BHA that dissolves sebum (oil) within the pore

Fantastic for brightening, anti-ageing and hydrating skin! 
How to use:
Use every PM, with a mild cleanser in the AM. Apply and massage into wet skin for 1 minute, and then rinse with cool water. 
Nerdie note: remember to wear your SPF religiously, as exfoliating acids can make the skin more sensitive to light.