How To Start The Dress Hunt With Alila Bridal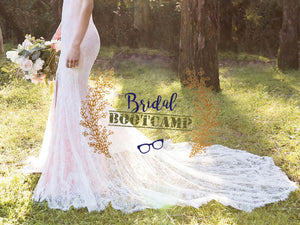 Shopping for your wedding dress should be exciting but it can also be a very daunting experience! It's not as if this is something we all do on a regular basis. We decided to put this handy post together with some tips and tricks to help you prepare for that moment when you finally try on THE dress and know that this is the one you are going to get married in!
Where to start
So you've looked online, on Instagram, you have your Pinterest boards for your dress, your bridesmaids, your wedding venue, your flowers, the groom and his party, your hair, your honeymoon, probably even your wedding lingerie! Now it's time to book some appointments to get trying. 
Here at Alila, we open by an appointment basis only.  We do this because we are not a typical boutique.  We don't have a shop front that people walk by. We are based in Dublin's Docklands in Docklands Innovation Park.  What we do have, however, is a stunning 2000 square foot (i.e. a pretty big) showroom!
Because we open by appointment only, when you book in with us, the entire showroom is yours to experience. You can bring your mum, your nana, your bridesmaids, your sisters, and your friends if you want – but we don't recommend bringing too many as you will be overwhelmed by all of their opinions.
You will have an experienced bridal consultant on hand to help you choose what to try on. Here at Alila, we are never pushy, we are just here to help. We have lovely, large changing rooms and a comfy couch for all of your helpers to relax in whilst they help you decide!
There is no fee for mid-week appointments. On Saturdays, there is a fee of €30 for appointments. This is fully redeemable against your purchase, whether it's of your "Yes" dress or evening wear, party dresses, bridesmaids' dresses, accessories or shoes!
We do this for a couple of reasons. Firstly, the main gates to the park where we are based are closed on Saturdays so we need to know someone is coming so we can open the gates for you. We are opening up just for you, after all!
Secondly, Saturdays are the busiest appointment day for all bridal boutiques and stores and in this industry, the number of no shows can be quite high. 
We would recommend booking a mid-week appointment first. Come and see that you like what is on offer and then when you can arrange to get your gang together, book in again.
How long does it take to order in a dress?
This all depends on the brand.  With our Goddess By Nature gowns, the general order time is 4 months for their bridal gowns. They can also do a 2 month rush order at a small extra charge. We also carry some other non-traditional bridal brands that we keep in stock so you can buy your dress there and then! If we don't have your size, we can order it in within a couple of weeks for the most part.
A wedding dress from Goddess by Nature
For bridesmaids, it depends on the brand you choose in terms of ordering time.  If we don't have it in stock, it could take 1 week to 14 weeks. Our Hayley Paige dresses take about 12-14 weeks to order in. Our Gino Cerrutti dresses depend on availability, but the maximum time would be 15 weeks. As we are the exclusive Goddess By Nature bridal stockist, we carry a lot of their bridesmaids dresses and keep these in stock when possible. Anything we don't have in stock, allow 8-10 weeks.
Goddess by Nature bridesmaids dresses
We have several options in store for same-day purchase so the good news is there is no need to panic if your wedding is in 6 weeks – we can sort you out!  Our bridesmaids dresses start at just €49.99!
Why does it take so long to order a dress in?
With Goddess By Nature, your dress is custom-made for you. Did we mention that they offer endless customisation options so you can even have a hand in designing your wedding dress? You can change the colour of the lining under the lace, the colour of the tulle, the length of the train, have a higher or lower neckline...There are so many options that you are guaranteed to have a gown that is truly you. 
Because of this, it takes the company time to order in your fabrics and then have the dress made. I have trained in the Grafton Academy of Fashion Design and I can honestly tell you it takes a lot longer than you think to make a wedding dress.
What should I bring to my appointment?
If you are shopping for bridal, we recommend bringing your Spanx if you know you want a slinky dress.  All good dresses start with good underwear - remember that! Do not wear any make-up or tan. We know this isn't ideal for some, especially if you are planning on being out with your girls all day but we want to be able to keep our samples as pristine as we can for you all. Just imagine how incredible you will look and feel on the big day if you like your dress without any make-up or tan (if you are a make-up or tan type of girl, that is!)
Bring your A-team. By this, we mean those whose opinions you value most. You might have 4 bridesmaids but that doesn't mean you need to bring them all. Let's be honest - one bridesmaid might be your fiancé's brother's girlfriend who you felt you should ask to be your bridesmaid but you have completely different styles so you are never going to like the same dress anyway. 
Tips for bridesmaids
Bridesmaids, remember that this is your friend's big day, not yours. It is very difficult to try and please all bridesmaids with a dress you will all like so be understanding. You will all look gorgeous on the big day.  
We have been dressing bridesmaids for 11 years at Alila so we promise to make you all look fabulous! Our Multiway dresses from Goddess By Nature are fantastic for a bridal party of all shapes, sizes and tastes as we can tie them different ways. You can mix up the colours if you wish too. Gone are the days of bridesmaids having to be all the exact same!
What now?
All that is left now is to book in for your appointment with us here at Alila Bridal. We are looking forward to welcoming you into our showroom and helping you find everything you need all under one roof. 
Or call Alila at +353 1 8069552!
Alila have been kind enough to offer an exclusive discount for the Bridal Bootcamp!
If you purchase your wedding dress with Alila Bridal, you will get 10% off or if you buy your wedding dress and bridesmaids dresses with Alila, you will get 20% off your bridesmaids dresses. Wehoo!