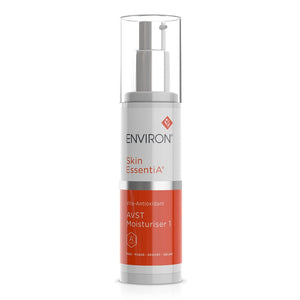 Love this! And it's pregnancy safe 🥰
My skin was all over the place in first trimester as soon as I introduced this back into my skincare it's perfect again! Love this product!
Excellent
Great product the tone of your skin from using it is amazing and the products lasts so long I use it day and night and it lasted me well over a month
Environ skin EssentiA
Really nice serum, lightweight, doesn't clog pores,and skin definitely has improved since using.
A+
Love this. It's very easy to use and definitely improves the skin tone and texture
Very happy with the product!
Want to order Environ but aren't a consultation client? Chat with our team between 9AM - 5PM Monday to Friday to discuss Environ, if it's suitable for you and get access to this this product.
Environ Skin EssentiA Vita-Antioxidant AVST Moisturiser 1 (Serum)
Environ call it a moisturiser... we call it a serum!
The Vita-Antioxidant enriched Environ debut moisturiser - containing introductory amounts of vitamin A and C in the step-up range. This light moisturising cream contains a variety of vitamins and antioxidants leaving your skin feeling revitalised. It is also suitable for young or sensitive skin and does not contain a sunscreen. 
Please note: you must use a whole bottle of AVST 1 within a 12 week period in order to be able to purchase AVST 2. 
You should use your AVST within 12 weeks due to the nature of the ingredients. We recommend that you purchase with intent to use immediately as Environ produce some of their products as per demand and AVST has a shorter shelf life. 
Jenn's Nerdie Bit.
AVST is the product that I would recommend to everyone. This is why it is the number one best-selling product on The Skin Nerd store after SPF. Vitamin A deficiency is the cause of many skin conditions, so boosting vitamin A can do a world of good! AVST is a progressive, step up system, so make sure to check in with us regularly so that we can discuss moving on to the next step.
AVST should be applied to the skin directly after cleansing unless otherwise specified by your Nerdette.
NB. Environ Skin EssentiA Vita-Antioxidant AVST Moisturiser 1 has been declared safe for use during pregnancy by Environ - wehoo!